Achievements
Professor Awarded John W. Kluge Fellowship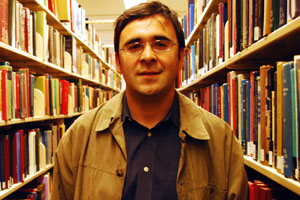 Mustafa Aksakal, professor in the Department of History, has been awarded a John W. Kluge Fellowship for the upcoming academic year. The fellowship annually recognizes scholars in humanities, social sciences, and professional fields.
Aksakal's research focuses on near Eastern studies, with an emphasis on the Ottoman Empire. His book, The Ottoman Road to War in 1914: The Ottoman Empire and the First World War, was published by Cambridge University Press in 2008. His new project is entitled, "The Ottomans in the Age of European Empire."
Located in the Library of Congress's Jefferson Building, the John W. Kluge Center was established in 2000 through a $60 million endowment from John W. Kluge. It encourages humanistic and social science research that makes use of the library's large and varied collections. Kluge Fellows are invited to conduct research at the library for a period of up to 11 months.