Achievements
Academic Advisor Alicia Mandac Honored for Service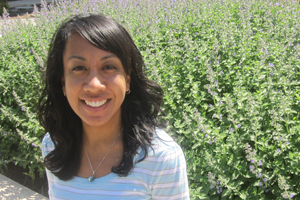 This year's Service to the AU Community Award has been presented to Alicia Mandac, an academic advisor in the College, for her dedication to developing and managing the Peer Advisor Program and continually going above and beyond the responsibilities of her position.

The award honors Mandac for contributing to a university priority, in this case retention rates, and achieving outstanding results. The Staff Performance Awards Program honors five staff members each year based on nominations from supervisors, subordinates, peers, faculty, and students. Mandac's supervisor, Senior Academic Counselor Marla Boren, nominated her for the award.

"Alicia has managed [the program and her duties as an academic counselor] with energy, enthusiasm and a smile on her face. Since many of our undecided CAS students go on to choose majors throughout the university, it truly is service to the AU Community and deserving of the award," says Boren.

Mandac's implementation of the Peer Advisor Program is thought to have had an impact on the College's retention rates in the past three years, which have risen over 5 percent since the program's inception in the summer of 2008. The program is designed to assist primarily freshmen and sophomores adjust smoothly to life at the university and understand the resources that are available to them.

"I, as an advisor, can tell my students 'Here are the requirements, here are the classes you need to take—but I can't speak to the experience of what it's like to be a student at AU," says Mandac. That's where the peer advisors step in.

"The peer advisors are really meant to be that bridge because there is something to be said about getting advice from your peers. They provide the student prospective and really do advise based on what they've learned as students," she says.

The Peer Advisor Program gives students in the College the opportunity to reach out to other students who have already experienced some of the challenging tasks that underclassmen might face, like choosing a major.

In fact, undecided majors who meet with peer advisors are thought to contribute to the increased retention rate. Peer advisers are trained to be ultimate resources for undecided students, steering them into other avenues of the university, like academic resources, classes, and extracurricular activities, which might help them to find their niche.

The program was originally Mandac's answer to the large incoming freshman class in 2008, but she says her own experience as a peer advisor during her undergraduate years is what really pushed her to start the program. "It was something that was really important to me when I was an undergrad, and it was a challenge I wanted to take on when I got to AU," she says. Mandac was a peer advisor during her college years at University of California - Santa Barbara and says the program is not only beneficial for those needing services, but also for the peer advisors themselves.

"I give them lots of responsibilities, and it's a role that I think they can grow in professionally and feel like they have ownership of," says Mandac. The peer advisors are responsible for holding one-on-one advising meetings with students, writing the Peer to Peer newsletter, and holding workshops for students, as well as contributing their own ideas to how they think the program can expand.

Mandac is excited to celebrate the fourth year of the program with her growing peer advisor staff and is honored to receive the award for her service. "It was definitely a nice surprise and I'm proud that the work the peer advisors have done gets recognition as well," she says with a smile.