Alumni
Curl Up with Literary Wonk's 10 Top Reads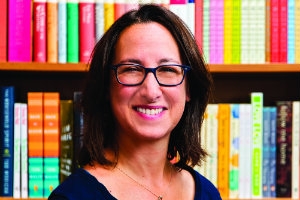 Like any book lover, Amy Stolls, CAS/MFA '00, has a well-worn collection of dog-eared paperbacks, but some of the most treasured volumes on her bookshelf represent a genre best described as "picture books for adults." These hybrids of words, image, and design—too beautiful to dog-ear—invite appreciation as works of true artistry.
Stolls is the author of Palms to the Ground (2005), winner of the Parents' Choice Gold Award, and The Ninth Wife (2011). A former journalist, she pursued her MFA in creative writing to satisfy a longstanding desire to study the craft of fiction.
Today, as the literature director for the National Endowment of the Arts, Stolls counts herself lucky to go to work each day to discuss books, meet authors, and encourage reading.
"I believe in the power of art to enlighten us, enrich our lives, and heal us," says Stolls (pictured at Politics and Prose in DC). "Being the person to encourage folks to read and help them discover the joy of new books, that's exciting to me."
STOLLS'S FAVORITE PICTURE BOOKS FOR ADULTS: 
1. RADIOACTIVE–MARIE & PIERRE CURIE: A TALE OF LOVE AND FALLOUT (2010) Lauren Redniss's sumptuous, fascinating biography in collage has its own unique font and—as a brilliant reflection of its subject matter—glows in the dark.
2.THE PRINCIPLES OF UNCERTAINTY (2009)
A compilation of Maira Kalman's New York Times columns, this pictorial monologue uses text, paintings, and photography to take us through a year in a life. It's funny, poignant, whimsical, contemplative.
3.BUILDING STORIES (2012)
Less a book than a gorgeously designed box of treasures, this groundbreaking, profound portrait of intimate lives by Chris Ware, one of America's top cartoonists, will make you rethink the limits of storytelling.
4.MOBY-DICK IN PICTURES: ONE DRAWING FOR EVERY PAGE (2011)
Matt Kish's deliciously monstrous book is a collection of artwork inspired by lines from Melville's classic. It's a fascinating, modern companion to the novel.
5.WATERLIFE (2012)
Smell this book! Its intoxicating pages are silk-screened by hand on handmade paper and hand-numbered to indicate the limited print run. Created by Rambharos Jha, it is a true object of art—Mithila art, to be exact.
6. THE CONFERENCE OF THE BIRDS (2011)
Peter Sis is a brilliant illustrator, author, and filmmaker born in the former Czechoslovakia. In this gorgeous adaptation of a twelfth-century epic Persian poem, even the paper feels heavenly.
7.THE ARRIVAL (2007)
Shaun Tan is an Australian writer, artist, and filmmaker. This is a stunning wordless narrative, a moving immigrant's story mixed with a bit of fantasy.
8.BALLAD (2013)
This French import by Blexbolex blends vintage graphic design with traditional printing techniques to tell a wholly original fairytale. Using nontraditional elements such as repetition and upside-down pictures, it evolves more than it flows.
9.ANIMALIUM (2014)
This spectacular, oversized book by Jenny Broom (author) and Katie Scott (illustrator) is designed as its own natural history museum. The first chapter is the "entrance" and the others—galleries of different species—are "rooms" you want to keep revisiting.
10.MIGRANT: THE JOURNEY OF A MEXICAN WORKER (2014)
This tender, bilingual immigration narrative by José Manuel Mateo and Javier Martínez Pedro has a masterful, intricate black- and-white drawing that unfolds vertically, accordion-style.
Story appeared in the November 2015 issue of American magazine.