Social Sciences
A Troubling Trend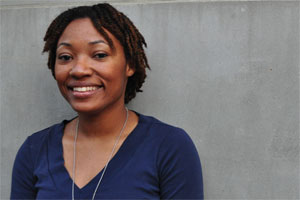 When Ashante Reese was a middle-school teacher in Atlanta, she took two of her students to buy ingredients for a dinner at her home. As the group perused the store's produce aisles, one student was surprised at the abundance of fresh fruits and vegetables. Her own local grocery, part of the same chain, she said, didn't have half the selection.
Reese was struck by the remark. Many of her students came from low-income neighborhoods and some had type 2 diabetes. "When I was growing up, kids didn't have type 2 diabetes, adults did," she says. "I thought to myself, what is causing this acceleration?" 
After moving to D.C. to do a PhD in anthropology at AU, Reese decided to pursue the question and investigate the epidemic from the perspective of medical anthropology. Supported by a $101,500 graduate research fellowship from the National Science Foundation, she will study how social, socioeconomic, and structural influences have created an environment that puts African American adolescents at risk for type 2 diabetes. 
Reese will use anthropological analysis and epidemiological methods to research the high incidence of diabetes among African American adolescents in D.C. 
"I'm going to look at systemic causes that influence the development of health disparities," says Reese. "For example, how does city planning create pockets of health disparities in communities?" 
While social scientists have examined a similar phenomenon among adults in Native American communities, no one has looked at this trend among African American adolescents. Her research, says Reese, will fill a void in anthropological literature about race and diabetes in adolescents. 
In addition to analyzing statistics from the Centers for Disease Control, Reese will do what anthropologists do best: gather qualitative data from the community and weave it together to tell a story. 
"Anthropology is unique in that you don't give a survey or ask an interviewee questions for 45 minutes," says Reese. "You're spending time with people, getting to know them, and giving them a voice. It's a trust thing." She plans to attend community functions to meet local families and find people to interview. 
Reese will begin her project in the fall. At present, she is participating in the CDC-funded Research Initiatives for Student Enhancement Program at Johns Hopkins University, where she works with a mentor to analyze data on health disparities.