On Campus
Sixth Annual Public Anthropology Conference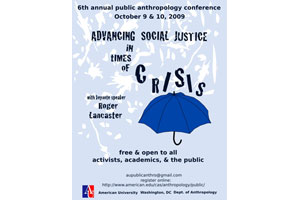 On Friday, October 9–Saturday, October 10, the Department of Anthropology will present its Sixth Annual Public Anthropology Conference, entitled Advancing Social Justice in Times of Crisis. Over the course of its two days, the conference will explore the issue of crisis from a variety of current perspectives, according to co-organizers and graduate anthropology students Mahri Irvine and Julie Maldonado.
"Obviously the U.S. is in an economic crisis," Irvine says. "You can also look at war and military conflict as crises. There are political crises, military crises, economic crises, as well as the everyday crises that people go through all the time – they're impoverished, they're being sexually assaulted, they're being kicked out of their homes."
The keynote speakers for this year's conference are Roger Lancaster, professor of anthropology and cultural studies at George Mason University, and Janice Harper, anthropologist. Lancaster will be speaking about gender and sexuality issues as related to crisis. Harper, who does work with military and nuclear issues, will discuss justice within the economic market and the job market, in relation to her own experience of recently being fired from her job as a professor at the University of Tennessee-Knoxville due to censorship issues.
The conference will also include film screenings, as well as panels and skills workshops that will directly engage conference attendees. "People have a stigma about what conferences are about," Maldonado says. "They either think, 'Oh, there's nothing for me to do,' or 'I don't know enough to be involved.'" In contrast, says Maldonado, this conference is about "activism, community engagement, and discussion. No one's going to read a paper at you."
The annual Public Anthropology Conference was designed to showcase public anthropology work done by students and faculty. "There aren't opportunities like this at [other] professional meetings in anthropology, so we had to invent our own event," says Bill Leap, anthropology department professor and chair. "Scholars and practitioners at other schools and at community agencies then contacted us and asked if they could report on their work, and soon we became this alternative venue."
October 8 is the deadline for online registration for both attendees and presenters. Attendance is free. For more information, including registration information and a program overview, visit the conference Web page.