Achievements
Professor Leap Awarded Ruth Benedict Prize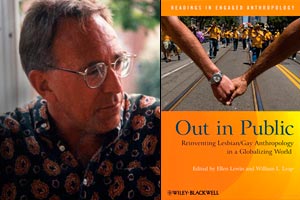 William Leap, professor and chair of the department of anthropology, has been awarded the 2009 Ruth Benedict Prize for the anthology Out in Public: Reinventing Lesbian/Gay Anthropology in a Globalizing World. The Society of Lesbian and Gay Anthropologists (SOLGA), an official section of the American Anthropological Association (AAA), gave the award.   
Out in Public is the third in a three-book series, all of which were coedited by Leap and long-time collaborator Ellen Lewin, professor of anthropology and women's studies at the University of Iowa. All three books received the Benedict Prize.
Out in Public examines the intersection of public and queer anthropology. Public anthropology uses anthropological method and theory to address real-world issues. For the LGBTQ community, these issues include homophobic violence, job-site discrimination, and denial of health care access, as well as sexual, racial, and ethnic oppression.     
According to Leap, public anthropologists have never given adequate attention to issues in LGBTQ studies, aside from HIV/AIDS research. Out in Public aims to bring more queer visibility to the field. "We're hoping that this collection starts some conversation with colleagues in public anthropology," says Leap. "We are also building this conversation in AU's anthropology department, and I am grateful that my colleagues continue to support this work."  
Composed mostly by young scholars, the papers included in the volume, cover a broad scope of topics, including black male identity in the Southern United States, the power of "stealth" (the non-disclosure of one's transsexual past or present) to female-to-male transmen, and the difficulties faced by queer-identified labor organizers in California.   
Leap and Lewin began the anthology series began in the 1980s in order to build greater visibility for lesbian, gay, bisexual, and transgender studies within the field of anthropology. They organized paper sessions through the AAA and combined them to form the first volume, Out in the Field. Leap says, "Mainstream anthropology has always tolerated 'the fags.' But when we started doing these sessions, it got to the point where we could not just be tolerated or ignored."  
It was followed by a second anthology, Out in Theory, which offered a queer critique of anthropological theory, and Out in Public.  For their next volume, the pair will explore the future of queer anthropology.    
SOLGA created the Benedict Prize in the late 80s to recognize outstanding professional publications in anthropology by LGBTQ studies anthropologists.
Out in Public: Reinventing Lesbian/Gay Anthropology in a Globalizing World, eds. Bill Leap and Ellen Lewin. Wiley-Blackwell, 2009. ISBN 978-1-4051-9101-2.