Research
New Soldiers of an Old Battle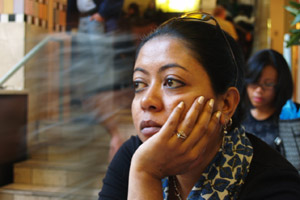 In Darjeeling, India, in the mid-1980s, a group of Nepali people formed a movement calling for sovereignty from India. Over 20 years later, members of the ethnic group are still struggling for a state of their own. But according to anthropology professor Debarati Sen, the movement currently boasts some fresh faces.
"This time, unlike in the 1980s, it's very feminized," she says. "A lot of women are used in key strategic positions to mobilize."
Sen recently received a $7,500 summer research grant from the Office of the Provost to travel to Darjeeling and conduct preliminary ethnographic research on this phenomenon. For her project, entitled "New Soldiers of an Old Battle: Women's Self-Help Groups and Ethnic Sub-Nationalism in Darjeeling, India," Sen will examine why women are so important to the new movement and how their participation affects their lives.
"What is it about the political economy of the present moment that attracts women to this movement?" asks Sen. "I want to see what's special about this phase of the struggle."
A citizen of Darjeeling until she was 5, Sen says she wants to cast a much-needed academic light on an under-examined sub-group of Indian feminism. "There's a real need [in academia] for attention to what these sub-national struggles are in South Asia, or in any part of the world, how they involve women, and in what capacities," says Sen. "That's what inspired me to do this work."
Sen has been preparing to begin her research since 2008. But the separatist movement at that time was increasingly violent, with riots and revolts in the streets, making the trip too dangerous.
The violence has since decreased enough for Sen to make her long postponed trip. While there, she will observe key female activists while they are away from the public eye. To understand the real dynamics of how these women live, Sen will observe them at home and in "self-help groups"— community-run workshops that enable rural women to receive bank loans and to invest in lucrative business ventures. She will also conduct individual interviews with each of them.
Sen intends to write a book about her findings once her research is done.