Research
Theatre, Performance, and Memory Politics in Argentina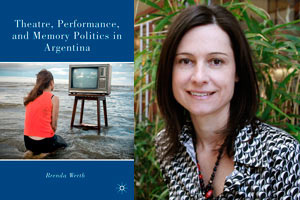 Argentina's recent history is marked by dictatorship, democratic transition, and economic crisis. In her new book, Theatre, Performance, and Memory Politics in Argentina (Palgrave, 2010), Spanish professor Brenda Werth explores how multigenerational memory of this turmoil is represented on stage.
The book explores themes of mourning, justice, memory, and accountability, all of which are relevant to the country's history.
In the first chapter, for example, Werth examines playwright Griselda Gambaro's 1986 version of the Greek tragedy Antigone, which deals with issues of justice and punishment. Furious Antigone, as it is titled, takes place during Argentina's transitional years, from the last military dictatorship to the advent of democracy. Werth juxtaposes a description of a historical performance—the 1985 trial of the military generals who seized power during the late 1970s and early 1980s— with that of a theatrical performance to examine different ways that justice in the early postdictatorship years can be staged.
Werth spent two years conducting research in Buenos Aires, a city known for its innovative theatre. She met playwrights Gambaro, Eduardo Pavlovsky, and Ricardo Monti, and she interviewed Laura Yusem, the director of Gambaro's Furious Antigone.
She looks at works by both established and emerging playwrights, which revealed some interesting findings about multigenerational memory.
"What I've seen from the younger generation is that there's really a desire to establish their relationship to this dictatorship," she says. "They're inheriting the past, but they're not burdened by it because they're creating their own perspectives and interpretations of it."