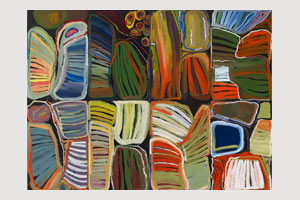 Through December 6, the largest collection of Australian indigenous art ever to tour the United States will be at the American University Museum in the Katzen Arts Center.  
Australian Indigenous Art Triennial: Culture Warriors features two full floors of art by 30 contemporary Indigenous artists from all over Australia who display a wide range of styles. For the exhibit's opening, 11 of the featured artists will come to the university, where they will give a public gallery talk and hold private meetings with art students.  
The exhibition includes works in Western traditions such as painting, photography, and sculpture interpreted through the cultural filter of the contemporary indigenous Australian, as well fiber objects and wood carvings which employ time-honored Aboriginal artisan techniques.  
Director and curator Jack Rasmussen says the exhibition is a major coup for the museum, partly because of its size and partly because of its politics. "This is by far the largest project we've ever taken on," he says. "We're working with the National Gallery of Australia—the most important and biggest museum in that country—and working with them has required us to grow in our level of professionalism."
"We're very much interested in displaying international art and we like art with a little bit of a political edge to it, so an Aboriginal show is a great opportunity for us," he adds. "We look for art that is engaged with society and has a function in that society."
Rasmussen expects museum visitors to be wowed by the work. "The primary reason we're doing this exhibition is because the work is great and needs to be seen," says Rasmussen. "The recent availability of Western artists' materials that were not completely ephemeral, weren't grains of sand or natural pigments applied to the body, has meant that work is being created that can travel, creating the possibility for this art to be seen outside Australia. There is such a rich visual tradition amongst the aboriginal people that just hasn't had an audience here."
The American University Museum, Australian Embassy, and the National Geographic All Roads Film Project are presenting a screening of recent Australian indigenous films in conjunction with the Culture Warriors exhibit on December 5. For details, please visit the museum's Web site.