First Person
Hirshhorn Intern Gains Curatorial Experience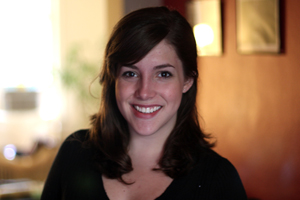 Second-year art history master's student Emily McAlpine discusses her summer curatorial internship at the Hirshhorn Museum and Sculpture Garden. McAlpine specializes in Modern European art and currently works in the Visual Resources Center in the Katzen Arts Center.
This past summer, from May to August 2010, I worked as a curatorial intern at the Hirshhorn Museum and Sculpture Garden here in D.C., known for its excellent collection of modern and contemporary art, as well as being host to some of the world's major art exhibitions. Part of the Smithsonian Institution, and an instantly recognizable feature of the National Mall, I was thrilled to work not only at one of the country's major art museums, but also a personal favorite of mine.
Having come into the Art History Program as a master's student last fall, I established a rapport with my professors as I took their classes and worked on papers. One professor of mine mentioned that a colleague of hers worked at the Hirshhorn, and needed an intern for the summer. I jumped on the opportunity, interviewed, and got the job.
All summer, my main project was to work with one of the Hirshhorn's curators on a planned future exhibition involving American modernist abstraction and its intersections with landscape. I don't want to say too much at this point, but watch for it in a couple of years! As part of the very early stages of the show's formation, I took on directed research from the curator and found information on various artists and their works in order to see how they would fit into the show. This involved extensive library research, and I was able to improve the breadth of my knowledge on American modern art as I worked on this project. This internship was particularly great as it was a good mix of direction, but also independence, as I chose what I thought to be necessary or helpful reading material for the curator, and even looked into other possibilities for artwork in the show.
The creative atmosphere at the Hirshhorn is unbelievable, and I am so happy that I got to experience a behind-the-scenes look at what the curators and various departments deal with on a daily basis. Getting this internship certainly shows that here at AU, professors are always happy to help out, whether with schoolwork, or even job and internship opportunities. I certainly hope to work in a similar atmosphere at an art museum in the near future after I've received my master's degree!