Arts
Graduate Students Present at Art History Symposium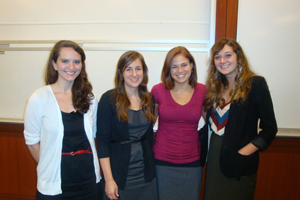 Each fall, select art history graduate students from American University and George Washington University gather together and present their research to the academic and arts community. Their new research covers a range of periods, from ancient to modern day. This year, the Ninth Annual AU-GW Art History Symposium was hosted by American University on Saturday, September 24.
"We are very proud of the joint symposium with George Washington University's Art History Department," says Kim Butler Wingfield, associate professor of art history at AU. "Now in its ninth year, this collaboration provides a critical forum for our students to engage with GW faculty and master's students on their research, and thus begin to expand their scholarly horizons and develop their research products—sometimes in new and exciting directions."
The four students from each program chose an original topic and investigated the influences, meanings, and effects of a particular artist's work. Each student wrote a paper discussing their findings and presented it at the fall Art History Symposium. Subjects ranged from female sexuality and death in Hans Baldung Grien's pieces to the role of faith in the work of Fitz Henry Lane.
The symposium was not only a chance for the public to take an academic look at art history, but was also a valuable experience for the students involved and a wonderful educational tool for professors. "The AU/GW Art History Symposium is often our students' first opportunity to deliver a scholarly paper in public," says assistant professor Juliet Bellow. "It gives them a taste of what an academic career is like, and it also allows them to see the kind of research their peers at other institutions are doing. I think it's a really important pedagogical tool for us as faculty in the art history program as we nurture young scholars at the beginning of their academic careers."
"It's an amazing experience to practice our presentation skills within a relatively safe environment," adds Emily Heap, one of the AU graduate student presenters. "It's an incredible opportunity to get a feel for the art historical world we'll all be entering."