Arts and Culture
Last Chance to Catch the Art of Science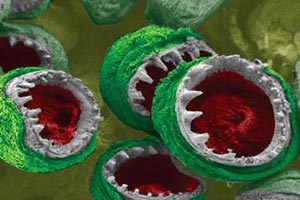 The International Science & Engineering Visualization Challenge exhibit at the American University Museum will be closing August 16, 2009. This exhibit showcases award-winning photographs, illustrations, informational graphics, interactive media, and non-interactive media from last year's challenge.
Appointed National Science Foundation (NSF) and Science magazine judges selected the winners. NSF features the winning entries on its Web site, and Science publishes them in both their online and print editions.
The NSF and American Association for the Advancement of Science (AAAS) started the annual challenge in 2003 to provide a forum for the public to see the aesthetic merits of scientific art.
"Breakthroughs in science and engineering are often portrayed in movies and literature as 'ah-ha!' moments," explains Jeff Nesbit, director of NSF'S Office of Legislative and Public Affairs. "What these artists and communicators have given us are similar experiences, showing us how bats fly or how nicotine becomes physically addictive. We look at their visualizations, and we understand." 
This is the first year the NSF presented winning entries as an art exhibit. Vikki Connaughton, professor and chair in the biology department, initially approached NSF about displaying the competition's winners in an exhibit at AU. "I thought that displaying an exhibit of the images here at AU would not only be of interest to the public and members of the campus community, but also a way to help increase visibility of the sciences at AU and show the connection between science and art," she says.
After the exhibit closes here, it will travel to the New York Hall of Sciences.