Arts
Inside an Artist's Studio: Journal Connects Artists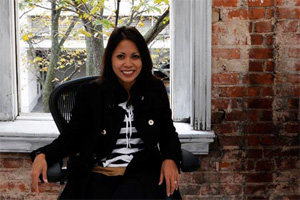 Professor Isabel Manalo honors the artistic creation process by showcasing artists' work and studios around the world on her award winning web journal the Studio Visit.
The web journal, created by Manalo in 2008, was originally established as a blog to feature her friends' art and other artists who she felt focused on art as a process, while also addressing timely contemporary art issues. "It started out of my own personal need to get out of my own studio and to meet other working artists," she says. "I was hunkered down in my own studio all the time and after having two kids, I realized I needed to reconnect with my colleagues and reconnect with the Washington art community."
That year, Manalo won Washington City Paper's "Best Arts Blogger" award and the website took off after its redesign. The Studio Visit now serves as a web journal with contributing writers to feature artists in their studios, from D.C., across the nation, to around the world. "I want [readers] to get an idea of what it feels like to be able to go into an artists' studio and get a sense of the surprise element that they wouldn't see if they only saw the finished project," she says.
Readers get a peek into what it's like in an artists' studio that they wouldn't see if they only saw the finished art or curated show, and as a result, a glance into the artists' creative process. "The journal itself is a collaborative project involving many artists and writers and a regular video editor. I really believe in this non-hierarchical way of supporting and maintaining an initiative where many voices and perspectives are represented. That's what makes the journal unique and fresh."
Manalo emphasizes the significance of what opening doors into other facets of art does for students in the field. "By giving them this exposure, it gives them comfort that there are more options. The typical road is you get your MFA and you teach, but there are other ways to use art."
She demonstrates this philosophy in all of her classrooms by bringing in artists, curators, and collectors into her classrooms, as well as introducing the students to local artist's studios, art centers, and galleries. "There's an amazing amount of opportunities for young students out there," she says. "When they are exposed to the possibilities to what's out there as potential careers beyond their own studio practice, I believe more students will be excited about majoring in the arts."