Arts
Four Artists Featured in Arts Colloquia Series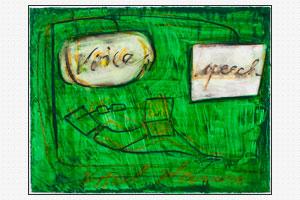 Vincent Van Gogh had his canvas; Auguste Rodin had his bronze; Diego Rivera had his wall. Many of history's most famous artists are known for their use of one medium through which they create their art. But sometimes an artist chooses to share a certain idea or story through multiple mediums. This thought is the foundation for American University's Spring Arts Colloquia Series, Broadly Speaking: Working Across Disciplines.
This series of talks will bring four artists to AU whose work is not limited to one discipline. They express their ideas and passions in a way that allows the viewer to focus on the concept of the art rather than the medium.
One such artist is Mira Schor, who will speak at 6:00 p.m. in the Abramson Family Recital Hall in the Katzen Arts Center on February 7. Schor, who teaches in the MFA program at Parsons The New School for Design, is a political artist whose work includes painting, drawing, and writing. Her artistic style is based on language. "I'm very interested in bringing actual handwriting into the painting, mixing the two languages, art and speech," says Schor. Some of her work has a cartoon-like quality to it. One series of paintings depicts a figure, which Schor considers an avatar of herself, carrying a book. The figure confronts different words in the paintings, which serve as an exploration of issues in the world. "They are cartoons about art and cartoons about life," Schor says.
At the event, Schor will address the relationship between art and politics. Since she has worked with the terms "politics" and "art" over the years, she hopes to define what can be considered "political art." "I think I can communicate a range of possibilities for young artists to consider how to think about those terms," she says. "I think it's particularly important right now because there is a lot of interest in politics in the art world, certainly in New York City with the Occupy Wall Street movement. And I've been involved in one way or another with political issues in my work since I was a graduate student, starting with feminism. I think that I can show that you can create work that has beauty, visual pleasure, and craft at the same time as it has ideas and political content."
Schor explores her interest in politics through writing as well. She has written multiple essays, published four books, and keeps a blog entitled "A Year of Positive Thinking," which acts as a complementary work to one of her books. "Writing is a very important part of what I do," says Schor. "In addition to being a visual artist, I also have an interest in communicating with people. I do it through writing, and it's a way of getting the message out into the world differently than through visual art."
After the colloquium, Schor will be showing her new work at a solo exhibition at the Marvelli Gallery in New York City, opening March 29.
Three additional artists will participate in the colloquia series. Tim Davis, who works in photography, video, and is a writer, will speak on February 21. While approaching his work with the utmost technique, Davis enjoys the oddities that the world presents and creates art that invites people to join in his delight, while contemplating their own views of the world.
On March 6, the series will host Jose Lerma, whose art includes painting, drawing, and sculpture. His use of everything from oil paint to carpet to computer keyboards shows his playful approach to closing the gap between historical and contemporary art.
The final artist in the series will be Sharon Hayes on March 29. Using video, installation, and performance art, she seeks to examine the current politics and speech, and how the current snapshot relates to the past and the future.
For more information on Mira Schor, visit her website. For more information about the Spring Arts Colloquia Series, Broadly Speaking: Working Across Disciplines, please visit the colloquia webpage.