Campus News
Inaugural International Arts Journalism Institute in Visual Arts
Based in the American Unviersity Museum June 12-26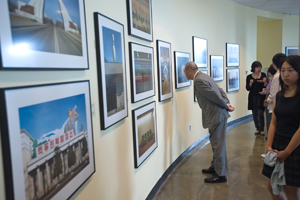 The inaugural International Arts Journalism Institute in Visual Arts will take place June 12–26, 2009 in the American University Museum.  The institute is a partnership between the National Endowment for the Arts (NEA) and the Bureau of Educational and Cultural Affairs of the U.S. Department of State (ECA).
The two-and-one-half week visual arts institute brings together 12 art critics from the United States and 12 art critics from countries as diverse as Bosnia, Columbia, Egypt, India, Indonesia, Philippines, South Africa, and Venezuela. They will visit museums, attend lectures, and participate in writing workshops.  Based at AU, the journalists will take day trips throughout the mid-Atlantic region, visiting art galleries and museums in New York, Philadelphia, Baltimore, and Washington, D.C., and meet with visual art professionals ranging from curators at major museums to directors of small galleries.
Jack Rasmussen, Director and Curator of American University Museum, will direct the NEA International Arts Journalism Institute in Visual Arts. Rasmussen stated, "The institute will place American art in its historical and cultural context and bring participants into close working contact with artists, curators, dealers, and critics in the United States today."
American University Provost Scott Bass said the university and its museum will provide an exceptional home for the institute. "The AU Museum, in collaboration with the NEA and ECA, provides a unique combination of talent and resources to explore art forms from the perspective of the journalist," Bass said. "By engaging project participants from the United States and other countries, and using professionals from the College of Arts & Sciences, this institute will be encouraging those chosen to participate to make informed critical insights in the visual arts."
This first NEA journalism institute focused on visual arts demonstrates the NEA's commitment – shared by ECA – to supporting informed arts criticism. Previous NEA journalism institutes have focused on dance, music, and theater. Since 2004, more than 250 journalists from all 50 states have attended NEA journalism institutes.
Acting NEA Chairman Patrice Walker Powell said, "The NEA's arts journalism institutes have offered American journalists a chance to hone their reviewing skills and expand their cultural knowledge. We are pleased to now share this unique experience with international journalists who benefit not only from the professional training and cross-cultural dialogue, but have an opportunity to view masterpieces of American art."