Arts
Premier Arts Administration Conference Comes to Katzen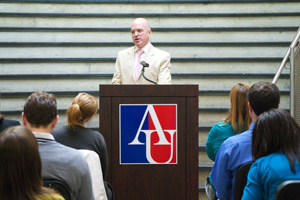 Struggling and closing arts organizations, declining and changing participation in the arts and a host of other issues are challenging cultural leaders to think in new and different ways about management and the arts. Recognition of the needs of cultural managers has recently come in the form of a recent $22.5 million grant to the Kennedy Center to further train and develop cultural leaders.
On June 3–5, the Association of Arts Administration Educators (AAAE) will gather at AU's Katzen Arts Center for "Making Connections: Preparing Cultural Leaders for Future Challenges." The conference will explore, among other things, new models for arts organizations, the needs of emerging arts leaders, and the role of formal education in arts leadership development. American University's Arts Management Program is hosting this international conference.
"AU students will benefit from hearing first hand from the leaders of the arts field," says Sherburne Laughlin, performing arts professor and conference co-chair. "At a time when the arts are particularly challenged, they will learn about new models for the arts, approaches to improving management of and advocacy for the arts and how organizations are addressing the crisis in the arts across the country."
Michael Kaiser, president of the John F. Kennedy Center for the Performing Arts, will open the conference fresh off his 50-state tour of arts organizations. Beginning in February of 2010, Kaiser personally provided onsite advice on fundraising, planning, and management to struggling arts organizations nationwide. Kaiser will discuss what he learned from the Arts in Crisis tour on Thursday, June 3, at the Phillips Collection.
The following day, June 4, after sessions on emerging leaders, trends in research in arts management and others topics, Ben Cameron will address the group on the critical disruptive technological and participation changes that call for new models in the arts. Cameron is program director for the arts for the Doris Duke Charitable Foundation and a leading thinker in the arts.
On Saturday, June 5, Joan Shigekawa, vice chair of the National Endowment for the Arts, will provide the closing keynote. A major player in public policy, Shigekawa is the NEA's Chief Operating Officer.
The latter two events will be held in the Recital Hall of the Katzen Arts Center. Seating is limited and offered on a first-come, first-served basis. Other sessions are open to those who register for the conference and registration discounts are available for AU Arts Management Program students who volunteer. Students interested in attending should email Sherburne Laughlin at slaughlin@american.edu.