Arts
Arts Management Program Celebrates 40th Anniversary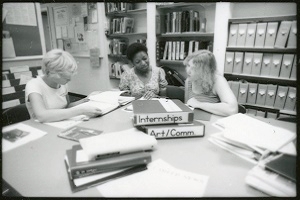 The Arts Management Program at American University is celebrating 40 years of training students to become successful arts and cultural managers in all areas of the visual and performing arts. AU will mark the program's anniversary with a two-day celebration on October 24 and 25. 
On Friday, October 24, participants will explore the DC arts scene by visiting local theaters and art galleries. On Saturday, October 25, they will be greeted with a speech by alumna Monica Hazangeles, the president of Strathmore. The day continues with speed networking sessions, an interactive theater presentation, a tour of the AU Museum, and a cocktail party.  
For more information about this chance to connect, create, and celebrate the program's 40 years of producing extraordinary arts managers, visit the event website.
Arts Management at AU 
The program offers a master's degree and graduate certificate in arts management, as well as graduate certificates in international arts management and technology in arts management. Students benefit from collaborations with the likes of Sotheby's in London, the U.S. State Department, major foundations, and executive education programs around the world. Closer to home, the program prepares students for internships and jobs at many of DC's leading cultural institutions.

Arts management students take classes in marketing, fundraising, financial management, and cultural policy. "The reason programs like ours were founded is because people wanted to make sure arts organizations were being run effectively," says director Ximena Varela. "It is not just about getting a degree in management. From the beginning, our program's mission has been to serve the broader community." 
Producing Extraordinary Leaders 
What best showcases the program's strength, however, is the success of its alumni: nearly 100 percent of graduates find work within six months of graduation. With more than 450 alumni arts managers, AU has had a broad impact on the arts across the nonprofit, public, and private sectors and a presence in such organizations as the National Endowment for the Arts, John F. Kennedy Center for the Performing Arts, Strathmore, and IMG Artists. In the last seven years, six of AU's arts management graduates received Fulbright scholarships, making the program a top Fulbright contender. "One of the things that attracted me to the program was that our students and alumni are driven," says Varela. "They're problem solvers and make ideas happen in the field— they are out there doing things."

Art Management's Growth 
The program emerged out of a series of meetings between performing arts professor Valerie Morris and National Endowment for the Arts staff about the need for management training programs for nonprofit arts leaders. Morris directed AU's program from 1974 until 1998, during which time it grew to nearly 80 students.

Though the program has experienced much growth and change over its four decades, one thing has remained constant: its commitment to innovation. "The curriculum and the program have adapted through time," Varela says. "We are focused on innovation, which means we anticipate what will happen in the field and make sure the program is aligned and ready for these changes." 
Innovation
One such innovation was a complete restructuring of the curriculum in 2010, resulting in more international arts management perspectives in the classroom and a new study-abroad program with Sotheby's Institute of Art in London. Participants take classes at the institute for a semester and receive a diploma from Sotheby's in addition to a master's in arts management from AU. This offers students the opportunity to develop an understanding of the nonprofit arts world outside the United States and in different cultural settings.

"The program has grown tremendously over the last 40 years in size, scope, and reputation," says arts management senior professorial lecturer Sherburne Laughlin. "I look forward to its growth over the next 40 years."