Arts
Arts in Our Backyard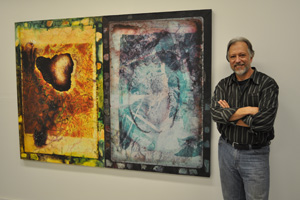 The College is home to myriad artists, performers, and writers, and this year's spring arts line-up is bringing them front and center.
American University Museum's late spring exhibitions feature home-grown faculty and student artists. From March 20–May 1, art professor Don Kimes's paintings will be on display in Pentimenti: After the Flood, a one-man show focused on works inspired by the 2003 house flood that destroyed a career's worth of his sketchbooks, photos, and works on paper. Running concurrently with Pentimenti, CausalityLabs: New Projects will feature mechanical sculptures by Austrian artist Galo Moncayo and AU sculpture professor Andy Holtin.
The museum will also hold its annual student exhibitions from March 27–April 3. The show will feature paintings, prints, sculptures, design work, and video installations by undergraduate and MFA students.
The performing arts schedule also showcases an array of faculty and student talent. On March 4, faculty members Barbara Hollinshead (mezzo-soprano), Doug Bowles (tenor), and Mary Gottlieb (piano) will perform "Songs from the Stacks: American Song Treasures from the AU Library Collection," a selection of pieces chosen from the university's archives and extensive sheet music collection. On March 26, performing arts professor Jerzy Sapieyevski will return with his annual "The Sound of Art, the Art of Sound" series, and on April 10, musician in residence Yulia Gorenman will deliver the sixth installment of her eight-part series dedicated to performing Beethoven's complete cycle of piano sonatas.
In addition, the Department of Performing Arts will present a variety of student performances, including theatrical productions of Romeo and Juliet, The House of Bernarda Alba, and Oklahoma!; musical concerts by the AU Symphony Orchestra, Jazz Ensemble, Wind Ensemble, and Chorus and Chamber Singers; the department's senior capstone projects; and two dance performances.
On April 14, the Department of Literature's Visiting Writers Series will feature Kermit Moyer, professor emeritus of literature and former director of the creative writing MFA program. Moyer's fiction includes the short story collection The Chester Chronicles, and Tumbling, a novel that the New York Times Book Review hailed as "a work of ringing authenticity." The series will close on May 8 with its annual student reading, during which graduating MFA students will read selections of their poetry and prose.