Achievements
AU 2017 Global Health Competition Winners Announced Winning team develops innovative approaches to preventing drug abuse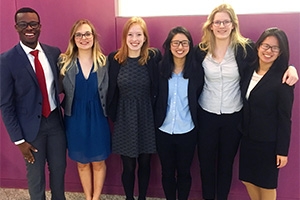 What would you do if you ran a public health nonprofit organization and just received a $400,000 grant to address critical drug abuse issues in our nation, including the opiate addiction crisis, alcohol abuse, and synthetic drug abuse throughout the US?
This was the question confronting seven competing teams of AU students on March 1 in AU's 2017 Intramural Public Health Case Competition, sponsored by the Department of Health Studies and the College of Arts and Sciences. Each team was given the "case" details two weeks before the competition. They had to research the issues, develop strategies, and prepare an action plan.
The teams then presented their plans to four judges: Eric Chapman, prevention services manager for the District of Columbia's Department of Behavioral Health and National Prevention Network representative for the District of Columbia; Bruce Points, community engagement manager for Substance Use Disorders in the DC Department of Behavioral Health; Beth Kane Davidson, director of the Johns Hopkins Medicine/Suburban Hospital Addiction Treatment Center, and; J. R. Denson, a health policy advisor for the American Council for an Energy Efficacy Economy and a graduate of AU's Health Promotion Management Master of Science Program.
"The event was a great success," said Jolynn Gardner, director of AU's Public Health Program. "All seven interdisciplinary teams presented very innovative, well-researched strategies to address the case. The judges commented on how impressed they were with all of the presentations."
The Winning Team
The winners, the Taking Strides Initiative team, won a $1,000 prize. Members included: Katie Lu Clougherty (BA sociology '17)
Rain Freeman (BA justice & law '17)
Shyheim Snead (BA political science '18)
Kara Suvada (BS public health '17)
Morgan Taylor (BS public health '17)
Liliana Zigo (BS psychology '18)
The team created the Taking Strides Initiative, with the following mission: "To reduce the burden of disease related to substance use in sex worker populations in Atlanta, GA, through a five-pronged approach."
The five-pronged approach would utilize community mobilization, peer support and mentorship, a resource map for participants, and the evidence-based practice of brief intervention to treat substance use in order to promote a healthy and empowered community. The team based its strategies in social cognitive theory and recommended partnering with existing organizations already working with the target population in Atlanta.
"The winning team's solution stood out: they presented a sustainability plan and evaluated strengths, weaknesses, opportunities, and threats. They prepared a logic model, and thoroughly researched a feasible and practical strategy to address the issues of the case," said Gardner. "Additionally, they based their approach on solid theory. They created a very thorough evaluation plan, which directly reflected the desired outcomes. The winning strategy also reflected the reality of the need to engage the local community in assessment of needs and development and delivery of interventions."
The Runner-Ups

Gardner praised the work done by all the teams. "The second- and third-place teams also based their strategies on sound theory and feasible goals," she said. "They presented very creative ideas and expertly utilized logic models to support their approaches. All of the presentations were impressive: the judges actually had a hard time making their final decisions!"
Second Place Team: Opiate Addiction in Vermont ($500 Prize)
Corina Chao (BA public health '18)
Monica Emma (BA international studies '17)
Katherine Hurley (BA Asian studies '17)
Lucia Jimenez (BA foreign language and communication media '18)
Third Place Team: Devoted Doulas ($300 prize)
Sumire Maki (BS public health '19)
Julia Snegg (BA public health '19)
Bayadir Mohamed-Osman (BS public health '18)
Asia Cutforth (BA public health '19)
Stephanie Black (BA WGSS & communications studies '19)