Arts
Exciting Season of Arts Coming Soon to AU
AU Arts Calendar, Fall 2016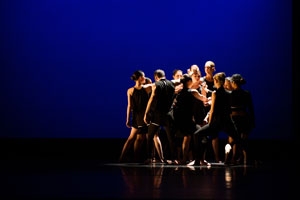 Welcome to the 2016 fall arts season at American University, which highlights the exceptional skills and talents of our students and faculty. 
As always, our performances come to life through the boundless enthusiasm and dedication of our students, whose creative and scholarly labors are deeply intertwined with the faculty's own research and creative work. Many of this fall's performances reflect upon the theme of American politics, protest, and democracy, timed to coincide with the national presidential election.

Following is a full calendar of events. For more information, visit the AU Arts website.
Overture
Friday, September 23, 8 p.m.
Saturday, September 24, 8 p.m.
Greenberg Theatre

This new student showcase, directed by Caleen Jennings, welcomes the dynamic incoming class of 2020 to the American University performing arts community. Through monologues, scenes, and song, the students reveal their insecurities, passions, and ambitions.
Tickets: $5


The Gorenman Russian Project
Saturday, October 8, 8 p.m.
Katzen Arts Center, Abramson Family Recital Hall

Internationally acclaimed American concert pianist Yuliya Gorenman explores masterworks of Russian repertoire in the third concert of the Gorenman Russian Project with the music of Scriabin, Rachmaninoff, and Rimsky-Korsakov.
Tickets: $10-25


A Funny Thing Happened On The Way To The Forum
Thursday-Friday, October 20-21, 8 p.m.
Saturday, October 22, 2 p.m. and 8 p.m.
Friday, October 28, 8 p.m.
Saturday, October 29, 2 p.m. and 8 p.m.
Greenberg Theatre


Book by Burt Shevelove and Larry Gelbart
Music and Lyrics by Stephen Sondheim
Originally produced on Broadway by Harold S. Prince
Directed by Cara Gabriel
Music Direction by Elizabeth Gerbi

This riotously funny musical farce combines the 2000-year-old comedies by Roman playwright Plautus with the infectious tunes and laugh-out-loud lyrics by musical theatre legend Stephen Sondheim. In this madcap, irreverent romp set in ancient Rome, a clever slave attempts to win his freedom by helping his master win the hand of the beautiful girl next door. But when the girl turns out to be a virgin courtesan sold to a formidable Roman Captain, fast-paced, slapstick hilarity ensues.
Tickets: $10-15
A Funny Thing...Forum is presented through special arrangement with Music Theatre International (MTI). All authorized performance materials are also supplied by MTI. www.MTIShows.com



Arts Management Fall Colloquium
Friday, November 4, 3 p.m.  
Katzen Arts Center, Abramson Family Recital Hall

Leading practitioners and theorists address significant issues affecting today's cultural community. Free and open to the public.


Election Edition
Saturday, November 5, 8 p.m.
Sunday, November 6, 3 p.m.
Katzen Arts Center, Abramson Family Recital Hall

The American University Chamber Singers, directed by Daniel Abraham, reflect on the meaning of peace and democracy by exploring the tradition of protest and political songs in the US dating from the American Revolutionary War to present day. Settings of great words by Lincoln, Jefferson, Kofi Annan, Archbishop Desmond Tutu, Jan Amos Comenius, and the Bible among others. Choral music by Billings, Schütz, Thompson, Byrd, Bono, Bernice Johnson Reagon, Oscar Peterson, Jiøí Laburda, and others.
Tickets: $5-10


Choreolab 2016: Creative Differences
Wednesday, November 9, 8 p.m.
Greenberg Theatre

Artistic Direction by Erin Foreman-Murray
AU's student choreographers present an exciting evening of concert dance. You will see an array of works in progress by emerging choreographers, and, following the performance, hear feedback from a panel of local dance professionals.
Tickets: $5 


JQA: A Theatrical Inquiry
Thursday-Friday, November 10-11, 8 p.m.
Saturday, November 12, 2 p.m. and 8 p.m.
Katzen Arts Center, Studio Theatre

By Aaron Posner and The JQA Team
Directed by Aaron Posner
John Quincy Adams, the sixth president of the United States and son of the second president, was the ultimate Washington insider. Part of a political dynasty, Adams was known for having contradictory views, some conservative and some liberal. Who exactly was this remarkable (or unremarkable) president? And what can we learn from him and his complex legacy?
Tickets: $10-15


Music Of The Spheres
Friday, November 11, 8 p.m.
Katzen Arts Center, Abramson Family Recital Hall

Join the American University Symphonic Band, directed by Ben Sonderman, for a celestial journey as they perform works inspired by the cosmos. Music influenced by science and science fiction will share the same stage.
Tickets: $5-10


Schubert, Sibelius, Bizet, And Tcherepnin
Saturday, November 12, 8 p.m.
Saturday, November 13, 3 p.m.
Katzen Arts Center, Abramson Family Recital Hall

The American University Symphony Orchestra, conducted by Matthew Brown, kicks off its season with a wide variety of great works. The program begins with the little known but gorgeous piece La Princesse Lointaine by Nikolai Tcherepnin. Selections from Bizet's Carmen Suites I and II are followed by Franz Schubert's sublime Symphony no. 8 (Unfinished). The program concludes with the epic tone poem Finlandia by Sibelius. Tickets: $5-10.


The Music Of Steve Reich
Friday, November 18, 8 p.m.
Katzen Arts Center, Abramson Family Recital Hall

The American University Workshop, directed by Noah Getz, explores the music of Steve Reich in celebration of his 80th birthday. Reich was one of the founders of minimalism and he remains one of its most creative and active proponents. Enjoy works by Reich and other minimalist composers that have been influenced by this renowned American composer.
Tickets: $5-10.


Fall For Jazz
Friday, December 2, 8 p.m.
Katzen Arts Center, Abramson Family Recital Hall

The American University Jazz Orchestra, directed by Joshua Bayer, and the Gettysburg College Jazz Ensemble, directed by Paul Carr, will perform a varied program of big band music, including swing, bebop, and blues.
Tickets: $5-10


Amid The Winter Snow
Saturday, December 3, 8 p.m.
Sunday, December 4, 3 p.m.
Katzen Arts Center, Abramson Family Recital Hall

Join the American University Chorus, directed by Casey Cook, in an exploration of modern and ancient themes of love, marriage, and the birth of a child. Featuring works from Eric Whitacre, Ola Gjeilo, Daniel Pinkham, and Benjamin Britten's holiday favorite, A Ceremony of Carols.
Tickets: $5-10
Tickets: american.tix.com or 202-885-2787
All events: american.edu/auarts