Student Life
A Day in the Life
Student Teacher Avery Luck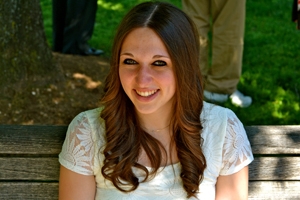 In 2014 Avery Luck graduated magna cum laude from AU with a BA in elementary education and a minor in health promotion. Now she's on the home stretch of her five-year BA/MA in AU's graduate program in special education: learning disabilities. She's getting hands-on classroom experience as an intern teaching students with learning disabilities at the Lab School of Washington. She also works as a graduate assistant in the Office of Teacher Education at the School of Education, Teaching, and Health (SETH).
6:00 a.m.
Waking up is difficult. Terrified I will oversleep, I set five or six alarms the night before. I'm already overwhelmed by all that lies ahead in my 15-hour day: teaching, work, and class.
6:45 a.m.
I head out carrying two over- flowing bags. One is stuffed with lesson plans, homework handouts, and my favorite-colored Stabilo markers (a staple for any teacher). The other holds my computer and a large binder filled with required reading for my graduate class.
7:00 a.m.
I arrive at the Lab School's upper campus and park my car. It's a 15-minute walk to the lower campus—but hey, I was a health promotion minor.
7:15 a.m.
I check in with my team of teachers about my lesson plans, ask for feedback, and prepare homework assignments. We tailor lessons for each of our students. The kids are 9 and 10 years old with a range of learning differences, including dyslexia, auditory processing and working memory deficits, language disorders, and ADHD.
8:30 a.m.
The students arrive. We greet each other with what we call a "floppy-fish" greeting: Students pretend they are fishermen, each casting an imaginary pole to greet another student, who has to act like a fish out of water.
We move on to sharing time, when we ask questions to spark ideas. For example: "Would you rather eat breakfast in an igloo or eat dinner in a castle?" 
I try to choose activities that encourage students to move and work together. One of their favorite activities is called Save Fred. (Fred is a gummy worm who has capsized his boat.) The students must use paperclips (only four allowed) to create a "life jacket" for him.
9:00 a.m.
We work on developing writing skills through a multi- sensory program that makes connections between language and movement. If students struggle to recall the name of a part of speech, they can demonstrate the concept with a corresponding movement.
9:40 a.m.
Students break into smaller groups for math and other subjects. In math, my students use "manipulatives," such as tiles or beads, to solve problems in a hands- on manner. As an exercise on the representational level, students draw pictures that represent multiplication and division; to work on the abstract level, they solve traditional numerical calculations.
11:00 a.m.
Time for Prediction Café, or CAFE—an interactive reading strategy that stands for Comprehension, Accuracy, Fluency, and Expanding Vocabulary. Students gather in the classroom's reading nook and pretend they're in a coffee shop. We give them a coffee cup with a quote from a book, and they have to guess or predict, based on evidence or knowledge, what the quote means. Then they open the book and read the quote in context to confirm or adjust their prediction. (The students are at different reading levels, so we still have to create individualized lesson plans.)
12:20 p.m.
I'm done with my morning internship at the Lab School and head over to the AU campus for my grad assistant job at SETH. Right now I'm analyzing student achievement data and updating a SETH Facebook page.
5:30 p.m.
Back at the Lab School, I have class for the next two and a half hours. I'm taking four graduate classes, all of which meet here. I'm getting a lot out of applying what I am learning in class to my internship, from conducting assessments to determining best practices that will meet each student's learning needs.
10:00 p.m.
Long day—lights out.