Arts
AU Theatre Students to Address GLBTQ Issues in Bare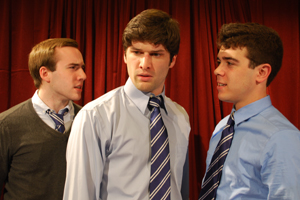 The nation knows the tragic stories of Matthew Shepard, James Byrd, Jr., and most recently, Rugters student Tyler Clementi. With roughly 1,280 sexual orientation based hate crimes recorded in 2010, it is not getting any easier for young homosexuals to tell the truth. That is the issue that American University theatre students look to address in their upcoming production of Bare written by Jon Hartmere and Damon Intrabartolo. 
The pop opera musical tells the story of two students, Peter and Jason, who are entering their senior year at a Catholic boarding school. The two have been in a secret relationship for some time, and Peter feels that it is time to come out of the closet. However, Jason feels that doing so would ruin his life. As things become more complicated, a conflict over how to deal with the dilemma rises between them. Peter is also dealing with the internal conflict of his own identity and his acceptance in his church. "Being a Catholic certainly presents challenges to any person who is gay," says Carl Menninger, director of theatre, music theatre, and dance in the Department of Performing Arts, and the director of Bare. "The whole thing about Catholicism is 'love the sinner, hate the sin.' So this boy is struggling with this idea that his feelings are real and they feel good and positive, and that he was put on this earth to be someone who is caring and loving. He is trying to understand it all."
The inspiration to produce Bare came from a situation that hit close to home for Menninger and the AU community. Last year, Menninger became aware that one of his students came out as gay. Menninger would occasionally check in on the student to see how he was doing, and he found that the student was having trouble. The student's roommate began making homophobic comments under the guise of humor. "He just seemed to continue to spiral," said Menninger. "The reality of his coming out was not happening particularly positively. At one point he said to me, 'I wish I had never come out of the closet, my life was so much better before.'"
American University is on College Magazine's top ten list of universities for engagement and support for the GLBTQ community, but Menninger found that simply relying on the university's reputation was not enough to help his students. The issue called for proactively raising awareness. "Here we are in this utopia, if you will. You couldn't ask for a more ideal environment for a kid to feel supported. Things seemed to be moving in a positive direction. And yet, even here, some kids feel the way his roommate felt," he says. "Art has the ability to challenge, to be a voice and a vehicle for issues, and to raise the important questions. We have the opportunity with this play to do that."
In this spirit, the students involved in the production have taken the issue to heart and have organized a campaign to reach out and create dialogue with multiple organizations. One example is their work with DignityUSA, an organization of GLBTQ Catholics and other Christians. Members of the organization attend rehearsals and give their feedback, sharing real life feelings and situations with the actors. "The students are able to hear the truth from the organization, and the members help them understand and recreate this firsthand experience," says Menninger.

The actors will also be working with organizations like SMYAL and PFLAG.  SMYAL, the Sexual Minority Youth Assistance League, is a community organization that provides help for youth between the ages of 16 and 22 who are coming out. "A lot of these kids have been kicked out of their homes or are victims of bullying," says Menninger. "This organization creates a safe place and does a lot of work with the youth to help them transition through this period." PFLAG, Parents and Families of Lesbians and Gays, is an organization that provides support, education, and advocacy on behalf of homosexuals so they can live normal lives.
The Bare performers will be hosting the two organizations, their supporters, and their board members, for an invitational dress rehearsal and conversation afterward. "The idea of allowing these kids to connect with something that to some extent tells their story, and certainly something that resonates with them, and then have a public forum to talk about it afterwards is affirming and empowering," says Menninger.
The outreach will continue into the run of the show as well. The students have organized two talkback panels with representatives of local organizations after the two Saturday matinees, February 25 and March 3. Participants on one panel will discuss sexuality and religion, and the others will discuss bullying and acceptance. The audience will be invited to engage in the discussion.
The students have also created a video blog chronicling the rehearsal process along the theme of the "It Gets Better" project, a video collection of support from open homosexuals started by Dan Savage in September 2010 in response to the rash of homosexual teen suicides. After each performance of Bare, audience members can film their statements of support. An AU film student will then edit them into a finished video. "The idea is that the video will chronicle the support and say 'this is what the American University community thinks about this,'" says Menninger. "Then, in March, the students will present Dan Savage with the video and a commemoration to thank him for his leadership in setting in motion something that is important and is driving our efforts here at AU."
Performances of Bare will take place February 23–25 and March 2–3 at 8 p.m. and February 25 and March 3 at 2 p.m. For more information, visit the AU Arts website.