Social Sciences
Meet Becca Peixotto: AU Student Who Helped Excavate New Human Species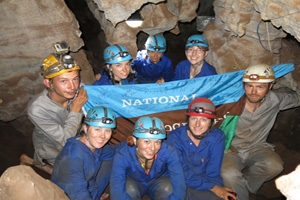 On Monday, September 28, at 12:30 p.m., AU students, faculty, and members of the general public are invited to a talk by Becca Peixotto, one of six female scientists making huge headlines in the world of anthropology. 
Almost two years ago, Peixotto, a College of Arts and Sciences anthropology PhD student and graduate of the public anthropology master's program, and the five other scientists squeezed into a narrow chute leading to an underground cave in Maropeng, South Africa. What they found there was identified last week as the fossil fragments of a new species of human relative named Homo naledi. In all the team excavated more than 1,550 bone and teeth specimens over three weeks, making their discovery the single largest-ever fossil hominin find in Africa. It then took months to assemble the specimens into 15 individual skeletons.
The excavation was heralded across the world and is expected to change the way scientists think about human origins. It was also dangerous: the passageway to the cave was only eight inches wide in spots, and the team had to cross narrow ledges and scale jagged walls to get to the chamber where the fossils were found. 
Join Peixotto on September 28 as she speaks about the expedition and the excavation of Homo naledi.