Science
A Wonder Material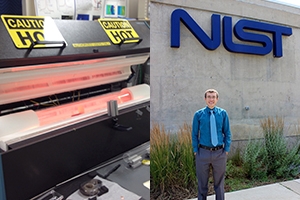 Senior Ben Derby, a physics major minoring in economics, spent the summer in Boulder, CO, on a National Institute of Standards and Technology (NIST) Summer Undergraduate Research Fellowship (SURF). 
Derby, who also won an honorable mention for a Barry M. Goldwater Scholarship, worked with graphene at NIST. Graphene is a newly discovered "wonder material" that is expected to revolutionize the next generation of electronic devices. 
Why did you choose to study physics and economics?
I came to AU as a communications, legal institutions, economics, and government major hoping to someday serve in public office. Professor Ivy Broder's Principle's of Macroeconomics course introduced me to two subjects I would learn to love: math and economics. I would not find my academic home, however, until taking Professor Harshman's Principles of Physics course. I knew right away that this subject would not only challenge me intellectually, but it would allow me to use my hands in an experimental sense. 
How did you decide to apply for the fellowship?
I had not been introduced to experimental physics research until 2013 where I worked at the Rochester Institute of Technology's Surface and X-ray Science laboratory. I was able to work with gold nanostructures and characterize thin films using X-ray diffraction. Being able to understand and then manipulate materials left me in amazement. 
I started reading the literature in condensed matter physics and become fixated on this seemingly revolutionary material known as graphene. I kept reading about all its potential uses that could transform many industries. I knew then that I wanted to work in a graphene lab over the following summer. I had looked at the research NIST Boulder was completing and was very happy to see that they were looking for a SURF fellow for the summer in the graphene lab. 
What was the most rewarding part of the fellowship?
Not only did I further my understanding of graphene, magnetics, and spintronics, but I gained experience on laboratory equipment not many undergraduates get to play with. Being able to conduct experiments on my own by the end of my time at NIST truly enlightened the budding experimentalist inside me. 
In addition I was able to connect with NIST scientists who have global impact and very unique expertise. Learning from them and discussing my future goals with them, especially with my mentor, helped me define my career path. My mentor allowed me to connect with researchers at the NIST Gaithersburg who experiment with graphene, and it is my intention to join a graphene project during my senior year here at AU. 
And who could forget all that I was able to experience in Boulder, Colorado!
What are your plans for the future?
In the short term I would like to pursue a master's degree in materials science in Germany. The institutions in Germany, specifically RWTH Aachen and Technishe Universitat Munchen, are world renowned for their materials science and condensed matter physics programs. I am also very excited about their research in the area of using graphene for renewable energy harvest. I would like to be a part of this research because I think graphene could help divert our current energy crisis for the long term. Also being a dual-citizen with the country, I have always wanted to spend time there to connect with my family and bolster my working knowledge of the language. 
After this, I plan on pursuing a PhD in materials science and engineering in order to be able to conduct research at an academic institution or in the industrial setting.
What are your other interests? 
I served as the director of the Community Service Coalition during my sophomore year and have maintained an active role since. I believe service is the life-blood of any community, and it is very important to me. I am also a member of the Leadership Program here at AU. It has provided me immense training in how to be an effective leader in any setting I choose later in life. 
I have also been granted the opportunity to work at the National Air and Space Museum since my freshman year. This gives me an amazing experience sharing my love with science to a younger audience. 
Outside of AU, I am very excited to be currently pursuing a private pilot's license. Last summer I had the amazing experience of soloing a Piper J-5 aircraft.