Research
Biomedical Research at American University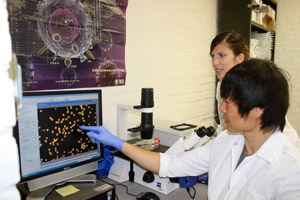 Research is a key activity for all health professionals, whether they are doctors, dentists, or veterinarians. Health professionals are scientists, using data on symptoms and from test results to test hypotheses regarding what is wrong with their patients.  Many students who want to become health professionals are preparing for their careers through their own laboratory research projects. 
Joosang Lee, a pre-dental undergraduate student majoring in biology, earned a prestigious Summer Undergraduate Dean's Research Award to help fund his research project. He is working in Dr. Kathleen Decicco-Skinner's lab researching molecular aspects of skin cancer.  "I believe this research is important for my future as a dentist because it gives me hands-on experience and the opportunity to use the techniques that I have learned in my science classes," says Lee.  "I like that research offers me the opportunity to deepen my understanding and knowledge about the subjects I am studying."
For more information about research experiences on and off campus, please contact Dr. Lynne Arneson at larneso@american.edu.