Humanities
AU History PhD Grad Follows Love of Teaching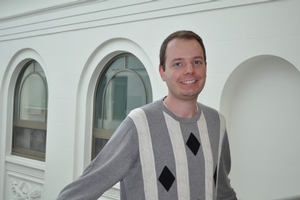 Borislav Chernev, a recent graduate of the PhD program in history, packed a lot into his five and a half years at AU. Between teaching several general education courses, working at a museum, writing his 340-page dissertation, and completing his doctorate in record time—the program usually takes seven years—Chernev had his hands full. 
The native of Bulgaria spent his youth and teenage years in his home country. When it came to choosing a location for his higher education, he selected Adelphi University on Long Island in New York. "I went to an American high school in Bulgaria, one of the best in the country, so it made sense for me to attend an American university," he says. 
While he originally thought he might want to study law, he settled on history as a postgraduate focus. "I've always been interested in history, and it turns out it was something I was good at," says Chernev. "I didn't have any doubts once I started the program at AU." 
Chernev had a choice between AU and a large state university in the Northeast. He chose AU due to its location in DC. "I liked what AU had to offer, and the DC location meant I was close to the National Archives," he says. "This certainly allowed me to finish my doctorate in less time than if I'd attended the school up north." 
He knew he wanted to write his dissertation on an aspect of Russian-German relations in the early 20th century, but he had a tough time narrowing it down. "I attended a research seminar at AU, and this is where I accidentally stumbled across the topic I ended up writing about," he says. Chernev decided to focus on an event at the end of World War I, the signing of the Treaty of Brest-Litovsk, which he says is generally overlooked because the peace it created didn't last very long. "I argue it's a lot more important and influential for nation-state building and consolidation," he says. 
To prepare his 340-page dissertation, Chernev spent time at the National Archives, in Boston, and in Europe conducting research. He spent one research trip in Austria and another in Bulgaria, where he studied mostly government records. "I also reviewed records of the Austrian foreign ministry and of the Social Democratic Party of Austria," he says. "Most of it is public information now, but it can be problematic if you're looking for more recent information—some documents haven't been released." 
Chernev was awarded a four-year fellowship while at AU, which provided him with a stipend. His fellowship also gave him a job as a teaching assistant on campus. He taught 200-level general education courses, including Russia and the Origins of Contemporary Eurasia and The West in Crisis, 1900-1945. The courses already existed, but he chose each course's content and created the syllabi himself.  
Through his fellowship, Chernev discovered two things he loved: research and teaching. "It's intellectually fulfilling," he says. "The students I taught were very bright and came from all over the world." 
Now that he's completed his doctorate, Chernev is sticking to the teaching track. He recently moved to England to apply for academic positions at universities while he works on a book proposal. Becoming a professor is his dream job, he says. "It's great to interact with people who are interested in learning."