Research
Breitman & Goda Expose Hitler's Shadow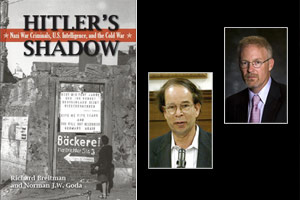 This discussion featuring American University's Richard Breitman and University of Florida's Norman Goda was recorded at AU on Feb. 24, 2011. Professors Breitman and Goda, along with William Cunliffe, Senior Military Archivist at the National Archives, spoke and answered questions about their widely discussed report on why and how US intelligence shielded Nazi war criminals after WWII. The event was sponsored by AU's Center for Israel Studies, Jewish Studies Program, and Department of History.
 

On Hitler's Shadow
AU History Professor Richard Breitman and Norman Goda, Professor of History at the University of Florida, co-authored a report for the National Archives entitled Hitler's Shadow: Nazi War Criminals, US Intelligence, and the Cold War. Based on recently declassified records, the report investigates how and why numerous Nazi war criminals, including high officials of the Gestapo, escaped prosecution at the end of World War II. More than 400 newspapers throughout the world covered the release of this report to Congress.
 

Speaker Profiles
Richard Breitman teaches courses in modern European history and German history. He is the author or co-author of nine books and many articles in German history, US history, and the Holocaust. His most recent books are editions of the diaries of James G. McDonald (League of Nations High Commissioner for Refugees,1933-35, and chairman of President Roosevelt's Advisory Committee on Political Refugees, 1938-1945) in a series published by Indiana University Press. The first volume, Advocate for the Doomed, appeared in 2007,and the second volume, Refugees and Rescue, will appear in 2009. Breitman is editor of the journal Holocaust and Genocide Studies, published by the United States Holocaust Memorial Museum. He served as director of historical research for the Nazi War Criminal Records and Imperial Japanese Records Interagency Working Group, which helped to bring about declassification of more than eight million pages of US government records under a 1998 law.
Norman J. W. Goda is the Norman and Irma Braman Chair in Holocaust Studies at the University of Florida. He received his PhD from the University of North Carolina at Chapel Hill and teaches undergraduate and graduate courses on the Holocaust from historical and interdisciplinary perspectives. He is the author of Tomorrow the World:Hitler, Northwest Africa, and the Path toward America (1998), Tales from Spandau: Nazi Criminals and the Cold War (2007) and the co-author with Richard Breitman of US Intelligence and the Nazis (2005) and Hitler's Shadow: Nazi Criminals, US Intelligence and the Cold War (2010). He hasserved since 2001 as a Congressional consultant for US government declassification effort under the Nazi War Crimes Disclosure Act and has also served as a historical consultant to the German government. He has appeared in and served as a consultant for various documentaries. He is currently working on The Holocaust: Europe, the World, and the Jews, 1918-1945.