Arts
New Dance Faculty Member at AU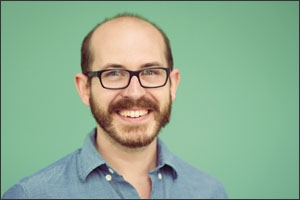 The dance program at American University welcomed a new full-time faculty member this semester. Brian Devine, a recent MFA graduate of Ohio State University and professional dancer and choreographer, brings an open and forward-looking approach to AU's dance program.

One of his goals is to further the growth of the dance minor. This semester, in addition to directing Choreolab, he teaches ballet and Dance as an Art Form, a class he describes as "an anthropologic, ethnographic melting pot of the human body and movement and where it fits in society."

For the past 10 years, he has split his time primarily between choreographing and teaching. Prior to coming to AU, he taught at a boarding school in New Hampshire, studied and danced in Seattle, and worked in New York City. In Seattle, he danced with a pick-up company—if the magic combination of money and an event occurred, then the dance company could function. "I didn't have as extensive of a performance career as I think I would've wanted when I was 18 and doe-eyed and going off into the world, but that's okay," he says. "I still have dance in my life every day, so that's a success for me."

Devine describes his choreographic process as musically driven. "I have to find the music in order to make the dance, and then I can go from there and shape it," he says. While he has a different experience with each dance he creates, the music is the impetus, his driving force. "The piece that I walk in the room thinking I'm creating and the one I end up creating are sometimes two very different pieces," he says.

As this year's artistic director of Choreolab, Devine got to watch fledgling choreographers stretch their wings in a supportive environment. This year, six AU students were selected to present at Choreolab, the largest number chosen in recent years. For some of them, it is the first time they had choreographed a dance. Each of the student choreographers selected a creative advisor who watched rehearsals, gave feedback, and nurtured them throughout the process.

The six pieces presented at the concert were of varying genres and styles, and sometimes unexpected given the students' backgrounds. Perhaps students came from a balletic background, but the work they ended up with was not balletic. "It's exciting to watch them grow and learn and see what they make," Devine says.
Seeing the students grow as artists and start to develop their own choreographic voice through this process was exciting for Devine. "It was interesting to see their frustrations and how they worked them out as a choreographer rather than a dancer," he says. "It gave the students the experience of being on the other side of the table, and experience they might not necessarily have had."
At the Choreolab performance on November 6, three outside adjudicators were brought in, two from D.C. and one from New York City. After the students' works concluded, the panel was invited onstage to provide feedback, giving the audience the chance to hear the dancer's lexicon. It was an opportunity to see what dancers talk about when they talk about dance. "Learning how people talk about their work gives you a deeper insight into their work in general," he says.