Science
AU Students Sail the Pacific this Summer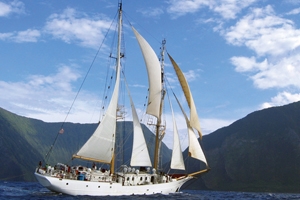 Two American University students—Brianna Belo, BA public health '18 and Katherine Lawlor, BA environmental science '18—are among 18 undergraduates from universities across the country who will join hands-on, community-led sustainability efforts throughout Hawaii this summer while sailing from island to island on a tall ship.  
Aloha 'Aina 
Through the Sea Education Association (SEA) Semester summer program Aloha 'Aina: People & Nature in the Hawaiian Islands, offered in partnership with Hawaii Pacific University, Belo and Lawlor will collaborate with community leaders, ocean resource managers, and coastal stakeholders to protect marine environments, combining wisdom from traditional Hawaiian and western environmental approaches. The phrase Aloha 'Aina, a Hawaiian conception of "love of the land," describes a deep and enduring relationship between Hawaiian people and the land and ocean resources that sustain them.  
After a rigorous application process, Belo and Lawlor arrived this week at Hawaii Pacific Univerity's campus to begin their five-week program. After two weeks of fieldwork on shore, they will join the SSV Robert C. Seamans, a 134-foot brigantine operated by SEA, for a sailing adventure throughout the Hawaiian archipelago, including Oahu, Maui, Lanai, and Molokai. Follow their 10-day voyage on the SEA Semester blog. 
Joining Community-Led Sustainability Efforts 
Along the way, the students will engage with community-based projects that are developing innovative solutions to land-based pollution, over-fishing, and climate change adaptation. Students will develop scientific expertise on the key biophysical processes that support ocean resources and coastal cultures, as well as a rigorous understanding of the unique combination of social, ecological, and policy dimensions of marine resource management emerging in the Hawaiian Islands. The experience will close in the first week of July with a weeklong final symposium on Hawaii Pacific University's Hawaii Loa campus, where the students will present policy recommendations to a panel of experts. 
About Sea Education Association/SEA Semester 
Sea Education Association (SEA) is an internationally recognized leader in undergraduate ocean education. For nearly 45 years and more than one million nautical miles sailed, SEA has educated students about the world's oceans. SEA/SEA Semester is based on Cape Cod in the oceanographic research community of Woods Hole, Massachusetts and has two research vessels: the SSV Corwith Cramer, operating in the Atlantic Ocean, and the SSV Robert C. Seamans, operating in the Pacific.