Science
CAPRI: Pushing the Limits of Technology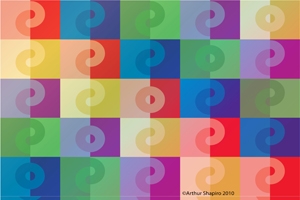 Technology is changing how we communicate, research, teach, learn—and even the way our brains work.
And because technology itself is expected to grow exponentially in the coming years, the College of Arts and Sciences has established the Collaborative for Applied Perceptual Research and Innovation (CAPRI) to take advantage of that growth.
CAPRI brings together faculty from across American University to investigate how new technology can revolutionize the way students learn and experience the world.
"The goal of CAPRI is to push the technological envelope and build a culture of cutting-edge technological innovation across departments and disciplines," says Arthur Shapiro, psychology professor and director of CAPRI. "We want CAPRI to become an axis for perceptual research, science, innovation, and application."
A Rapidly Changing World
Developments in interactive technology over the next 30 years will change the world as much as the Internet has shaped the last 30 years, says Shapiro. Fueling the change is the fact that technology is becoming accessible to more and more people. "You no longer have to be an engineer to use interactive technology; faculty and students in all disciplines can use it."
Shapiro believes that one of the biggest questions for twenty-first-century academics is this: are we going to organize ourselves by content or by methodology?
He believes it will be the latter. "The new technologies cut across disciplines in ways that could not have been imagined 50 years ago," he says, pointing to the work of Michael Bader, assistant sociology professor, who is using Geographic Information System (GIS) technology to create interactive maps about the civil rights movement and neighborhood demographics. Users can manipulate the maps to see how their own neighborhoods have changed over time.
Interactive technology like this offers engaging new ways to communicate ideas and can be used by scholars in other disciplines. "Once we see tools working in one field, we can adapt them for our own fields," says Shapiro.
Focus on Perceptual Research
CAPRI's unique strength is perceptual research, says William Brent, assistant professor of performing arts. "This is research on how people understand what they see, hear, and feel—how basic information from the senses is interpreted by the brain, leading to higher-level understanding of our surroundings." 
Shapiro says faculty and students are already conducting perceptual research, blending scientific research, art, and experimental technology.
In recent demonstrations, Shapiro presented interactive visual illusions. Brent's Aural Maze challenged participants to navigate a space using only music to guide them. And physicist Jonathan Newport produced laser light shows that are controlled by the sound of visitors' voices.
The Future: Innovation in a New Home
But this is just the beginning. Ultimately CAPRI will become an incubator for cutting-edge software and interface development for digital musical instrument design, medical testing, improved training procedures, and educational tools.
All of this will take place in the university's state-of-the-art Don Myers Technology and Innovation Building, which opens in fall 2016. The building will house CAPRI; the departments of computer science, physics, and mathematics and statistics; and the new program in game design, offered jointly with the School of Communication.
"CAPRI will become an open collaborative laboratory hosting students and faculty from departments across the AU campus, as well as visiting researchers from around the world," says Brent. Its work will be public and visible, offering "a space for interactive demonstrations and installations that the general public can freely explore. CAPRI's exhibits will illustrate both what we know of and are still exploring about human perception."