On Campus
Preparing for Career in Polling with Double Major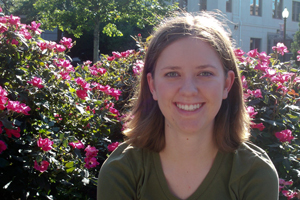 When Junior Carly Kinney, CAS '13, graduated from high school, she vowed that she was done with math—forever. She was on course for a career in political science. But halfway through her freshman year, she found she kind of missed the quantitative work. So she signed up for a statistics class. And then another. 
"I've found that I like the statistics classes much more than I thought I would," says Kinney. And so she devised a rather unusual way to combine her interests: double major in statistics and political science. The point of convergence? In a word, polling. Kinney refers to it as an art. Her career plans now involve elections and public opinion polling. 
"Electoral politics and statistics go hand in hand because polling is such an integral part of the election process," she says. "I'm really interested in elections, so the fact that an election cycle comes around every other year keeps me interested in political science. It changes the politics at every election—which means I never get bored." 
If Kinney was apprehensive about the demands of a double major leaving no time for other activities, like studying abroad and interning and all of the other things going on around campus, she will be able to say she did it all by the time she graduates. She's studying abroad in Rome for her fall semester, and she completed her second internship this summer working in the public affairs department at Ipsos, a market research company. 
"They do a lot of polls, they do corporate reputation studies and different studies for different entities, and I think that's really interesting because they [do] a lot of statistical analysis," she says. "I'd love to work more with election polls in the future, perhaps at a research company like Ipsos that designs and conducts them. It seems like a perfect mix of my political interests and statistics, so I think I'd really enjoy it." 
Her first internship was in the polling department at Huffington Post, where she compiled polls and analyzed trends. "You can hardly read a story about any national election without getting some kind of polling results," she says. "I love being able to follow that closely and delve deeper into what the polls say, and my internships so far have only strengthened that love. At both the Huffington Post and Ipsos, I've gotten to meet and work with people who use political polls in their daily work, which has been amazing and a lot of fun." 
Kinney admits that it all can be a bit overwhelming at times. "Coordinating my classes is definitely the biggest challenge of studying both political science and statistics," she says. "I'm lucky because political science is a large department, which means that there are a lot of different classes that I can fit around my required statistics classes. So juggling the two majors can be done with careful planning." 
Kinney says she would love to be able to use her career to advance social issues she cares about, like gay rights. "I'm not sure how I could use statistics to contribute to that cause," she says, "but if I got the chance to do so, I'd definitely take it."