Athletics
Success On and Off the Court (or Field)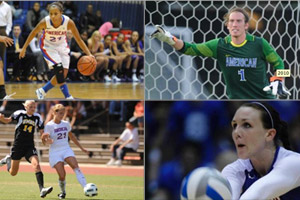 With papers, exams, meetings, and projects, it can oftentimes be difficult for students to juggle their myriad responsibilities and commitments. For student athletes, this can sometimes prove to be even more of a challenge, as they have to balance their workload in addition to intense and time-consuming practice and game schedules. For four College of Arts and Sciences scholar-athletes, this balance has not proved insurmountable. As such, they have been named as some of the Patriot League's Scholar-Athletes of the Year.
According to Maureen Breslin, assistant director of the Academic Support Center who counsels student athletes, AU student athletes come to campus driven to succeed in both their sport and their academics. "Our students athletes really do come to AU knowing that they are here for their academics as well as their athletics," says Breslin. "I think that by nature, student athletes are competitive and they have a lot of drive. They can make themselves go running, they can make themselves go lift weights. And that discipline that they need to be excellent athletes makes them excellent students."
One such student is women's basketball guard and sophomore public health major Alexis Dobbs. Dobbs maintains a 3.8 GPA and is interested in becoming a physician assistant. She says that while she's succeeded as both a student and an athlete, it hasn't been easy. "Being a student-athlete is like a full-time job with responsibilities," says Dobbs. "You have to be the most productive person you can be despite fatigue, soreness, and shortened time."

Dobbs specifically cites Breslin, College academic advisor Anne Kaiser, and Public Health Program assistant director Brenda Kirkwood, as well as her teammates, for boosting her academic success. "One of the most rewarding parts of being a student athlete is being involved in a family away from my biological family," says Dobbs. "My teammates and coaches know more about me and support me more than most people will ever know and do because of how much time I spend with them."
Rebecca Heath is another example of this drive and dedication. The senior outside hitter for the women's volleyball team will graduate in May with a bachelor's in anthropology. Heath says her time as a student athlete has helped to prepare her for a career in archaeology. "I think my ability to work through physically demanding situations and still be able to mentally focus will come in handy when working on a dig," she says. "Being a student athlete also really teaches you how to take directions, even when they might not be what you want to hear, and how to work with a team of very different people with very different backgrounds toward a common goal."
Heath faced the added challenges of injury as an athlete. Over the course of her time at AU, Heath has had five surgeries. "It has been very hard for me to stay focused and motivated when it felt like all I was ever allowed to do was work off the court, which is, of course, never the fun part," she says. But despite these challenges Heath says she has found her experience as a student athlete extremely rewarding. "The most rewarding thing about being a student athlete is the friendships you form and the memories you share both on and off the court," she says. "The experiences we get when traveling and the adversity we face together in practice and games really bond us in a way that I think is somewhat unique."
Senior women's soccer defender Jenna Stasiewicz agrees. The public communications major and graphic design minor hopes to become part of the communications team for a nonprofit organization. She believes her time as a student athlete will also play a role in her professional success. "I have learned how to become extremely organized and adaptable and how to deal with stress," says Stasiewicz. She calls Breslin her lifesaver when it came to scheduling classes around practices and games and even cites the study hall that all freshman athletes are required to attend as helping her to build good study habits that she has continued throughout college. "It's hard to prioritize when you are so incredibly invested in both the classroom and on the field," says Stasiewicz. "You have to learn to separate yourself and always be present in the moment."
Senior men's soccer goalkeeper Matt Makowski also realizes this. The biology major, who is also minoring in literature, has maintained a 3.94 GPA and has been named a Patriot League Scholar-Athlete for the second year in a row. Makowski was also a 2012 national finalist for the Rhodes Scholarship and has taken on numerous academic and research activities. "Matt is really a great example of how students can excel and shine both on the field and in the classroom, but also outside of the university," says Breslin.

"We have absolutely incredible students," says Breslin. "They are terrific athletes, but they also know that their studies at AU are their career paths, and they're dedicated to working as hard as they can to do well both on and off the field."