Research
Protein Detective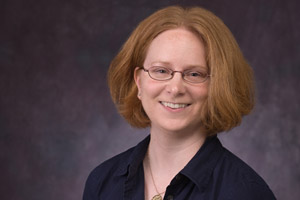 While planning lab curricula this fall and devising laser spectroscopy systems for Fluorescence Cross-Correlation Spectroscopy (FCCS), new chemistry prof Abigail Miller faces an additional challenge: getting an 800 lb. optical table up to her Beeghly fourth-floor lab.

Anchoring Miller's dual-laser FCCS apparatus, the weighty table is de rigueur for dampening background vibrations, a critical factor in her research on protein-detection. As Miller explains, "Single molecule type protein assays can provide fast, definitive measurements from relatively small sample sizes as required in contexts like medical labs. But since biological molecules occur in complex environments—and with single molecule fluorescence spectroscopy we're isolating data for individual molecules in samples of 600 billion—eliminating data noise is important."

Miller has already made significant advances in this area. As detailed in a 2009 study published in Analytical Chemistry, she and colleagues at the Lawrence Livermore National Laboratory pioneered the application of alternating laser excitation (ALEX) techniques to antibody-based protein detection, and combined it with a new method for excluding false positives. The work demonstrated the capability of FCCS to identify both human chorionic gonadatropin, a hormone produced during pregnancy, and the prion protein, which can be associated with conditions such as "mad cow" disease and Creutzfeldt-Jakob disease in humans.

Following her stint at Livermore, Miller moved to the National Institute of Standards and Technology (NIST) in Maryland to pursue related work, seeking detection methods that go beyond cell surfaces. Says Miller,  "I studied the structures of small strands of DNA or RNA, called aptamers, for potential use in protein assays. Because the aptamers are readily absorbed by cells, the protein assays can be run in the cells."

Now at AU, Miller is preparing for further FCCS work—and a team of riggers is scheduled to wrestle the optical table up to her lab next week. Surveying future research aims and potential practical value, Miller notes that her current interests "fall in three directions that branch off from my previous work: one, characterizing  and quantization of the single molecule protein assay for understanding the reactions involved and potential interferences; two, applying aptamers to single molecule fluorescence protein detection assays; three, developing single molecule fluorescence instrumentation for lower cost and general usage."