Arts
Eighty Years of Music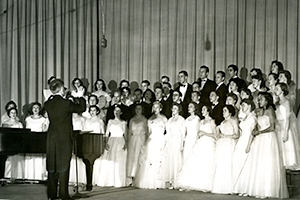 The AU choral program is celebrating 80 years of singing, touring, and entertaining audiences across the nation, and the world.
Impacting the Field of Music
Since its founding by Professor James McLain in 1934, the AU choral ensembles have made a big impact in the Washington community. Many of the directors of the AU Chorus and AU Chamber Singers have had leadership roles in DC choral arts organizations, including the Cathedral Choral Society (founded in 1941 by Paul Callaway), The Choral Arts Society of Washington (founded in 1965 by Norman Scribner), and the Master Chorale of Washington (formerly the Paul Hill Chorale, founded by Paul Hill in 1967).   
"The ensembles' directors have played an incredible part in building these groups," said Daniel Abraham, director of choral activities since 2000. "I think this shows AU's commitment to hiring excellent directors, and it also shows that AU faculty are striving to make their mark in the greater artistic community."
Growing the Program
During his first semester as director, Abraham auditioned nearly150 singers, expanded the chorus, and chose a small group to become the new chamber singers. "It's been so fulfilling to see the ensembles grow and evolve," he said.
Abraham believes that the program has achieved a good balance. Students can participate in a large, symphonic-oriented chorus or a smaller, more intimate ensemble. "The AU Chorus has settled into a nice mix of undergraduates, graduate students, community members, alumni, and faculty. This bigger, mixed chorus juxtaposed against the smaller, more select chamber singers group ensures we can do large scale choral works, as well as more intimate works with a smaller, advanced group," said Abraham.   
Abraham has no shortage of ideas for growing and advancing the program. In the future, he would like to expand the chamber singers and start a women's chorus. "In chamber singers, having one or two more singers per part would help students learn more quickly and encourage them to sing out as an ensemble," he said. "Founding a women's chorus would create a group for students who could not find a place in AU chorus, and provide an opportunity to explore a different set of repertoire."
Chamber Singers: On the Road
The chamber singers have a long tradition of cultural diplomacy through international performance. They have toured in South America and Mexico, Hungary and Romania, Spain and Portugal, and, most recently Russia.
Closer to home, they have performed at the Washington, D.C. Choral Festival at the John F. Kennedy Center for the Performing Arts; the 25th and 30th Anniversary of Mothers Against Drunk Driving "Celebration of Life" at the Ronald Reagan Center; and with the National Philharmonic.
Ambassadors and Life-Altering Experiences
Abraham points out that the ensembles act as ambassadors of the university—no matter where they perform. "Not only do our music ensembles tour and do outreach in the community, but there's also an internal reach that's really important," he says. "The fact that students can see their classmates creating incredible music is an opportunity we need to continue to cultivate and promote."   
More than anything, said Abraham, the chorus and chamber singers help AU create well-rounded, versatile students. Participating in high-quality music-making encourages students to develop new skills and perspectives, challenging them to question themselves and the world around them.   
"What a university does in terms of its arts says a lot about its character. I think universities who shy away from putting forward their artistic selves are not creating the most whole people they can," he said. "These ensembles enable students to explore the arts in an interactive, experiential way, and give them experiences that can be really life-altering."
For More Information
For more information about the American University Chorus and the American University Chamber Singers, visit the Choral Program website.