On Campus
Commencement 2010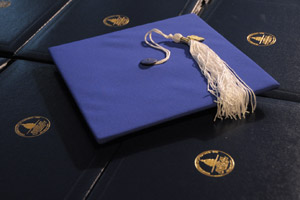 On May 9, the College of Arts and Sciences will hold its 124th Annual Commencement Ceremony at 1 p.m. in Bender Arena. The event will honor nearly 800 undergraduate and graduate students who have completed degrees since August 2009. 
Secretary of Homeland Security Janet Napolitano will serve as the ceremony's keynote speaker. Prior to taking her current position, Napolitano served first as New Mexico's attorney general and later as governor. In 2009, she became the first female head of homeland security. The College will also present her with an honorary doctorate of public service.
Carolina Peguero, BA '09, will be the student keynote speaker. A committee CAS faculty, staff, and students chose Peguero out of a pool of applicants based on her resume, statement of intent, and a draft of her proposed speech. She completed her BA degree in economics and Spanish and Latin American language and area studies in fall 2009 and is currently working on her MA in International Economic Relations with a concentration in Development in SIS.