Achievements
College of Arts and Sciences 2011 Commencement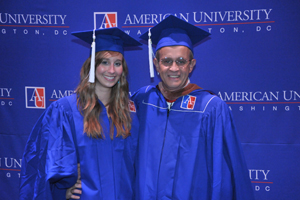 Congratulations Class of 2011!

The 2011 College of Arts and Sciences commencement took place on May 7 at 4:30 p.m. Watch highlights of the ceremony and view photos.

Speeches
Renowned astronomer Vera C. Rubin addressed the graduating students. Rubin is a National Medal of Science recipient who established the presence of dark matter in galaxies. She received an honorary doctor of science. Watch video.
Dean Peter Starr's speech honored the Class of 2011. Starr sated, "Though we trust you will stay in touch in your new capacity as alumni of American University, your daily presence on our campus and in our community will be deeply, deeply missed." Watch video or read speech (as prepared).
Literature bachelor's degree recipient Lawrence D. Musante delivered the student address. Musante stated, "To say that AU has prepared me for the rest of my life would be an understatement." Watch video or read speech (as prepared).

Awards
Cassandra Ricketts received both the President's Award and the Stafford H. Cassell Award as an accomplished student-athlete. Read article about her many achievements.

Jieun Lee was honored with the University Student Award for Outstanding Scholarship at the Undergraduate Level.
Eric M. Goldstein received the University Student Award for Outstanding Service to the University Community.

Andrew Jonathan Welch received the Evelyn Swarthout Hayes Award.
Kurt F. Karandy II received the Charles W. Van Way Award.
Retiring Faculty
The ceremony also recognized retiring faculty, Professors Esther Chow, Nadia Harris, Ira Klein, Charles Larson, and Charles Tesconi. Watch a video of students honoring the retiring faculty members.
Other Highlights
Glynnis and Michael Purcell graduated together in the College of Arts and Sciences. This is the first time that a father and daughter have graduated together at American University. Glynnis recieved a BA in theatre and Michael received an MFA in creative writing. See NBC's story and video of them before they walked.
Graduating students took part in a reflection video of what they cherished while at AU. Watch video.