Achievements
College of Arts and Sciences 2014 Commencement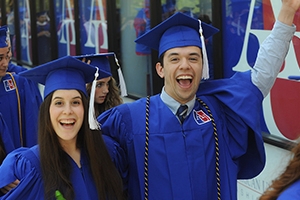 Congratulations Class of 2014!  
The 2014 College of Arts and Sciences commencement ceremony took place on Sunday, May 11, at 1 p.m. View photos of the ceremony.  
Speeches
Featured Speaker

The Honorable Cecilia Muñoz spoke to the graduates of the College of Arts and Sciences. 
"I am a firm believer in a liberal arts education…That kind of training from a university as fine and great as this one is an invaluable asset. I know this because I hire young people, and I look for people who have learned what you have learned in your time here. 

"You have learned how to think. You have learned how to write. You have learned how to make an argument and support it with facts, how to engage people from a wide variety of backgrounds, how to respect other people's ideas, and how to challenge those ideas respectfully. 
"From one liberal arts major to another, I can't wait to see what you do!"  
Muñoz is the assistant to the president and director of the Domestic Policy Council, which coordinates the domestic policy-making process in the White House. Prior to this role, she served as deputy assistant to the president and director of Intergovernmental Affairs where she oversaw the Obama Administration's relationships with state and local governments.  
Before joining the Obama Administration, Muñoz served as senior vice president for the Office of Research, Advocacy, and Legislation at the National Council of La Raza (NCLR), the nation's largest Latino civil rights organization. She supervised NCLR's policy staff covering a variety of issues of importance to Latinos, including civil rights, employment, poverty, farmworker issues, education, health, housing, and immigration. Her particular area of expertise is immigration policy, which she covered at NCLR for twenty years. 
Student Speaker

Alison Donnelly, who graduated with a major in theatre performance and a minor in education studies, told her fellow students, "So, my only wish for all of us today is that, as we leave this institution and move on into the next chapter of our lives, we never lose this fervor, our failures remain sacred, our successes remain earth-shattering, and we remain proud of whatever it is that we want to be." 
During Donnelly's time at AU, she performed in eight theatre productions, worked as an assistant stage manager at the Greenberg Theatre, served as vice president and music director for AU's acapella group Treble in Paradise, spent a semester studying in the British American Drama Academy's London Theatre Program, and worked to help teachers from under-resourced schools to integrate the arts into their classrooms. 
Awards
Alexis Dobbs was recognized as the winner of the President's Award. The President's Award is the highest honor awarded at commencement. It is given to an undergraduate senior who has displayed a longstanding commitment to building community and promoting AU's ideals of academic achievement, integrity, selflessness, leadership, and service.
Erica Elizabeth Munkwitz received the University Student Award for Outstanding Scholar at the Graduate Level.
Jessica Nesbitt won the University Student Award for Outstanding Service to the University Community.
Lillian Guthrie McGee received the Evelyn Swarthout Hayes Award.
Alifa Shelby Watkins received the Fletcher Scholar Award.
Hannah Sydnor-Greenberg won the Cathryn Seckler-Hudson Award.
Victoria Vogel received the Charles W. Van Way Award.