Science
Students Win Top Honors at Computer Science Event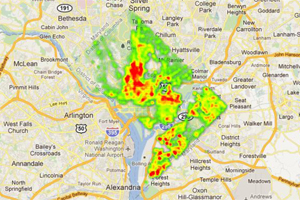 Two teams from American University garnered top honors at the recent USAID U.S.-Russia Codeathon, winning first and third place in the weekend-long computer programming competition.

The first place team worked on a search engine to make legislation more accessible to the general public. If someone is interested in receiving information about taxes, he or she could sign up with this search service that would translate all legislation relating to taxes into layman's terms and then send it out to those who listed taxes as an interest.

Perhaps the idea for the tool was generated during undergraduate and winning team member Mike Whitfield's trip to AU the morning of the competition. "As a commuting student who drives over the Chain Bridge," he says, "it would have been useful to know it was closed for repair work the day of the codeathon."

While the primary goal of the codeathon was to create search tools that could help make government more transparent, Professor U.J. Sofia believes the AU teams performed especially well because of their ingenuity.  "It was more for their idea than what they ended up accomplishing in the end," he says.

It's not really about finishing a program in the 30 hours allotted anyway. "One of the ideas of the codeathon is that you start off at the event and if you don't finish, you keep going, you keep making progress," Sofia says.

Whitfield and his teammates have already started thinking about next steps for their project. "By continuing to flesh out this search technology, we've planned a number of applications toward which it could be useful," Whitfield says. "In contrast to Google, we can deal with very niche items and craft very exciting uses out of such a technology."

The third place team created a heat map of crimes in the D.C. area using a database of D.C. crimes and Google Maps, which was actually usable by the end of the codeathon. "I know [the students] have a Website now," says Sofia. "I think they want to put it out there and let people use it. For the most part, the idea was that the students put it out there as freeware and let people use whatever they developed."

The codeathon also provided an opportunity to put aside day-to-day administrative tasks and use skills learned in the classroom in the real world. "So often we busy ourselves with meetings and formalities," says Whitfield. "Actually doing something is a nice change. As an aspiring engineer, I value products more than I do intangibles like research papers."

Whitfield is also a member of the university's computer club, and many of its members volunteered to participate in the event. Not surprising, when the club is so active in using programming to create usable products. "They've been making a Dance, Dance Revolution machine, and they've been getting into robotics," says Sofia about the students' current projects.

The codeathon gave students a chance to experiment with programming and to create products that could make a real difference. "Search is such a basic problem set in computer science that it can be applied to almost anything," Whitfield says. "Why let Google have all the fun?"

To find out more about the codeathon, see USAID's press release.