Achievements
Computer Science Students Code Their Way to the Top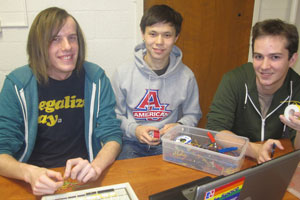 Teammates Cameron Cook '13, Almas Kebekbayev '12, and Will Petersen '12, took first place at the 26th annual Consortium for Computing Science in Colleges Eastern Conference at Juniata College in Huntington, Pennsylvania, on October 16, 2010.
These three computer programmers defeated 18 other teams from various universities to win. Judges decided the winners based on the team with the most correct answers in the allotted four-hour time slot. Cook, Kebekbayev, and Petersen answered a total of four questions, solidifying their win, while three other teams tied for second place with three questions answered.
They used Java, a programming language used to create web applets or other programs, to answer a variety of complex programming questions on various topics. Cook says the hardest part of competitions like the 2010 CCSCE is simply deciphering what the questions are asking. "Sometimes the problems can be so difficult that you can be stuck on one problem for hours," he says.
The only problem they tried to solve and couldn't involved radioactive sheep and goats that were killing each other. The team had to develop a program that would arrange sheep and goats next to each other or on top of each other so that the goats or sheep would die based on their position. "You have to read [the questions] several times over, and when the algorithm doesn't work, it's really frustrating."
An algorithm, a series of precise problem-solving steps, can be used as a kind of diagram for programming solutions, which programmers then articulate in a particular coding language such as Java. "It's a big, long list of instructions in computer jargon," says Cook. To increase their productivity and chances of winning, the three broke down their roles on the team: Cook and Kebekbayev were responsible for creating the algorithms, while Petersen coded using the algorithms.
Their team was led by Professor Michael Black who acted as their faculty sponsor at the competition. "He's wicked intelligent; he's a great professor," says Cook. Black took the team up to Juniata College where he was acting as a coordinator for the competition. He asked Cook, Kebekbayev, and Petersen to participate in the competition because none of them had previously.
Cook didn't expect to win because of how challenging the questions can be and was surprised when they answered four questions correctly. "Once you get one solved you realize you can solve another, and another, and then you magically win," he says. Each won a $50 gift card from Best Buy.
Cook says he plans to return to the competition in the future and will continue programming with his teammates, as they are all active members of the Programming Team, which meets every Thursday night.