Achievements
Programmed for Success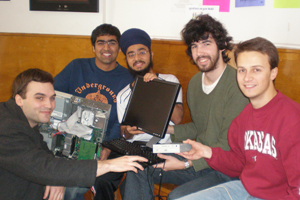 When Michael Black began assembling AU's 2007 computer programming team, he opted for a straightforward recruiting approach. "I grabbed every student who was interested in participating," says Black. The promise of free food was also a lure. "One general education student said he was not going to come to the practices until he found out there would be pizza there," says Black.
His efforts—and the pizza—paid off. That October, team members Aleksandar Ivanov, computer science BS '08; Michael Levin, mathematics and physics BS '08; David Plassmann, computer science BS '10; Pavneet Singh, computer science BS '00; John Tylwalk, computer science BS '08; and Sri Rama Vempati, computer science and business administration BS '11; returned from the Association for Computing Machinery's 32nd annual International Collegiate Programming Contest's regional competition, where they took 14th and 35th place among 137 teams, including representatives from Duke University, Johns Hopkins University, and University of North Carolina, Chapel Hill.
Their Secrets of Success

Black believes the team's success was a result of longer, more strategic practices. Each year's competition consists of eight computer-programming problems that teams are asked to solve; the top teams usually solve three or four. "Some problems are really easy and some are really hard—so hard that they aren't meant for you to solve," says Black. To prepare his team for this, Black ran some practice sessions during which the team focused on identifying the easy and less easy problems and delineating plans of attack for them instead of solutions.
And what about the senior general education student who joined the computer programming team for the free food? Somewhere along the way, it seems he got hooked.  He submitted an application to AU's MS program in computer science at the end of the fall semester.