Communications
Connections Magazine Launches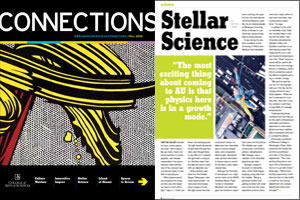 Connections, the official publication of the College of Arts and Sciences, is changing from a bi-semesterly newsletter to a semesterly magazine, beginning with its next issue, released October 23.
This change, according to College Dean Peter Starr, will give the publication more room to expand on the achievements of the school's faculty, students, and alumni. The new Connections will include 12 pages of content, with more in-depth stories and a vibrant, eye-catching layout.
"More pages and bolder graphics will make more of a statement," says Starr.
Another reason for the format change is the complementary relationship between Connections and the College's newly renovated Web site. "Having the Web site for more current event-related pieces and news briefs has freed us up to use Connections for more in-depth stories and features that dig a little bit deeper," says Jessica Tabak, managing editor and writer for the publication.
"In print media, you can develop ideas and stories far more fully than you can on the web," adds Starr. "If you go on and on online, readers are going to lose interest. But they're used to reading articles in the New Yorker that are 10 times longer than what we would put in Connections."
The publication has also undergone a name change, from CAS Connections to simply Connections.
"I don't think 'CAS' means as much as we tend to think to an outside audience," says Starr. "Acronyms can be like secret handshakes. If you're part of the community, you know what it means, but otherwise, you don't."