Achievements
College Connections
College of Arts and Sciences magazine now available online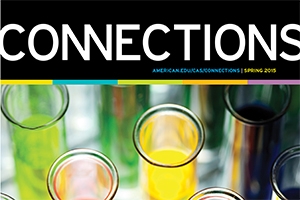 The spring issue of Connections magazine, the biannual magazine focusing on AU's College of Arts and Sciences, is now available on campus and online. 
This issue of Connections focuses on women in science; how technology is radically changing education; and the myriad of accomplishments of College students, faculty, and alumni. You can read about the upcoming Alper Initiative for Washington Art at the Katzen Center; the graduation of our first cohort of Public Health scholars; and an impressive array of books published by the literature department. 
You'll also read about alumnus Harjant Gill, an anthropologist and award-winning documentary filmmaker; alumna Irene Glowinski whose career at the NIH was launched in an AU chemistry lab; and economics professor Paul Winters, who never dreamed of studying economics until an inspirational encounter with a Nobel Laureate. 
Stories 
Women in Science
Prominent roles for women scientists at AU
From AU Lab to NIH
Alumna Irene Glowinski, BS chemistry '75, leading nation's fight against pandemics
Gift Funds Home for DC Art at AU Museum
New art initiative established by alumna Carolyn Alper, BA studio art '68
Pixels or Pages?
Linguistics professor Naomi Baron on the art of reading in the digital age
A Call to Action
Historian Max Paul Friedman's welcome to the Class of 2018
Passages from India 
The journey of visual anthropologist Harjant Gill
Book Club
New books by literature faculty
A Day in the Life 
From class to classroom with special education student teacher Avery Luck
AU's Public Health Pioneers
First class of public health scholars preparing for graduation
The Power of Data
Economics professor Paul Winters making research relevant with real-world data
Sound Games
Valerie Rennoll, BS audio technology and physics'16, training US Navy sonar operators
CAPRI: Pushing the Limits of Technology 
New initiative changing the way students experience and learn