Arts
Conquering Symphonic Heights, Building Strength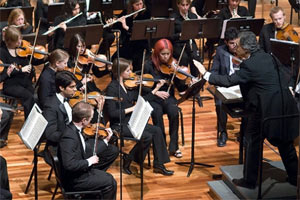 "This year's orchestra is bigger and better than ever," says Jesus Manuel Berard, Orchestra Director for the Department of Performing Arts. The AU Symphony Orchestra is set to perform a wide range of pieces on April 15 and 16 at 8:00 p.m. in the Katzen Arts Center Abramson Recital Hall. "The orchestra is consistently working to tackle progressively more difficult music," says Berard. "They have managed to conquer some very tough pieces."
This performance features a variety of pieces including Richard Wagner's Overture to Tannhäuser, selections from Aaron Copland's Eight Poems of Emily Dickinson, and Jacques Offenbach's "Les Oiseaux dans la Charmille." The second half of the program features Jean Sibelius's Symphony No. 2 in D, Op. 43.
Giuliana Concha-Pedraza, a soprano singer and winner of the Music Program's annual Concerto and Aria Competition, will perform the Offenbach and Copland pieces with the orchestra. A senior music and international studies double major, Concha-Pedraza has performed with the AU Symphony Orchestra and Chorus in the past and is an active member of AU Chamber Singers, where she was chosen as a soloist in Handel's Dixit Dominus. The competition, open to all AU students, celebrates the incredible talent of all AU musicians. This year's competition was held in February, and Concha-Pedraza was selected as the winner out of over a dozen participants.
While many orchestra members are not music majors or are also majoring in another field, Berard says that this does not detract from the dedication and passion that makes the orchestra so strong. "No matter what other commitments they have, they always achieve incredible performances."
Senior history and art history major Blair Bailey confirms that, "the AU Symphony Orchestra consistently pushes its members to play at their absolute best and then to push to find their best beyond that previously known level." The tuba player has been performing with the orchestra for three years. "I have formed a lifelong family with our conductor [Berard] and my peers. The orchestra has truly helped me grow both musically and personally."
"It's been wonderful to work with these students. I love them all for who they are and what they do," says Berard. "This is a wonderful representation of how the university can work together on one endeavor. The students bring a variety of perspectives and backgrounds that represent everything the university has to offer."