Humanities
Moving beyond Academia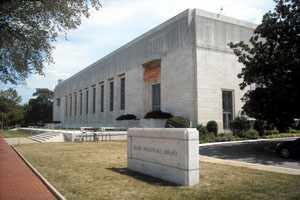 Academia isn't the only career route for creative writing program graduates. Graduates of AU's MFA in Creative Writing Program say there's a wide world of job opportunities to pursue, from arts programming and administration to advocacy.
Poetry Readings and Shakespearean Workshops
Teri Cross Davis (MFA creative writing, poetry '04) is the poetry and lectures coordinator at the Folger Shakespeare Library. Davis credits the MFA program for its accessibility and range. "It led me to my job now; they needed someone with a master's degree to curate their seasons." 
In this position, Davis curates as many as eight readings per season, as well as the Shakespearean workshops hosted by the organization from January through March. She works closely with other organizations to set up partner programs, such as Poetry in Schools, a six-week poetry workshop that culminates in an anthology of student poems. 
She says she was first drawn to AU's Creative Writing Program by the opportunity to work directly with poets she admires. "Being in DC affords a unique opportunity with nonprofits and government organizations," she says. "Sometimes you have to make your own career," says Davis. "The opportunities you can find when you make your own way will surprise you."
Arts Programming and Advocacy
Michelle Franke (MFA creative writing, poetry '08) is the executive director of PEN Center USA, one of Southern California's leading literary nonprofits. She manages the organization's literary arts programming and its advocacy network for writers who are censored or imprisoned abroad. In all, she has produced more than 250 events to give writers a space where their voices can be heard. She also takes time to teach at UCLA Extension Writers' Program and edits The Rattling Wall, the annual literary journal she founded in 2010, which publishes short fiction, travel essays, and poetry. 
For Franke, the AU MFA program allowed her to explore other genres and how they creatively feed each other. "The variety of courses I was able to take and the influence of the people I was able to meet outside of the workshops made an incredible difference in terms of how I understood my place in the lineage of poetry," she says. 
While she was finishing her degree, Franke worked as an assistant book buyer for Kramerbooks in Dupont Circle, an experience that helped shape who she is now. It also gave her the chance to build relationships with like-minded artists. "Finding those literary communities helps you keep your momentum when you're finished with a degree program," she says. "Cultivating them is what will afford you opportunities."
Funding Literature in America
Amy Stolls (MFA creative writing '00) serves as the director of literature at the National Endowment for the Arts (NEA), where she manages grant programs and special initiatives. Prior to the NEA, she worked as an environmental journalist and was internationally recognized for her coverage of the Exxon Valdez oil spill. She is also the author of the young adult novel Palms to the Ground (Farrar, Straus & Giroux), winner of the 2005 Parents' Choice Gold Award, and the novel The Ninth Wife (HarperCollins, 2011), as well as more than a dozen personal and literature-related essays. 
"I was a journalist in Seattle when the faculty at American's MFA Program in Creative Writing took a chance on me and changed the course of my career," says Stolls. "In many ways, I am who I am today because of the support and inspiration and continuing friendship of many creative writers and literature professors and colleagues I met at AU." 
Promoting Civic Engagement with the Arts
Arts-focused careers are a draw for many others, including Alicia Gregory who joined Americans for the Arts in 2014 as a program coordinator. Gregory works to promote arts-based civic engagement through coordination and development of communication, research, and special programs.
Prior to this position, she worked as the program assistant for Split This Rock, a nonprofit dedicated to bridging poetry and public life. While there, she supported daily operations and special initiatives including festivals, youth programs, workshops, and readings dedicated to promoting public programming at the intersection of poetry and social change. 
Looking to the Future
Teaching and mentoring other writers can be a rewarding career, says AU literature professor Kyle Dargan, but not everyone wants to be a teacher. 
"Universities should work to maximize the unique talents of each MFA student instead of pushing everyone towards jobs in academia," he says. "MFA programs need to evolve their thinking regarding career outcomes for students, and the resources in the Washington, DC, area position AU to stay at the forefront of that evolution."