Literature
AU Creative Writing Program Offers Study Abroad Opportunity in Rome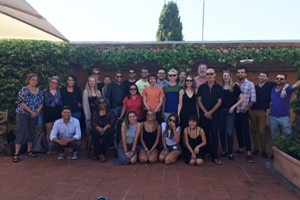 In the summer of 2016, American University's MFA program in creative writing will offer its second annual summer program in Rome in partnership with John Cabot University's Institute for Creative Writing and Literature Translation. The program takes place in a five-week session from May 18 through June 25. 
Courses and Learning from Writers in Residence
Each summer, students will take classes in Graduate Poetry Writing, Graduate Fiction Writers, Reading as a Writer, and the Art of Literary Translation. 
"Our Rome opportunity offers MFA students (and advanced undergraduates) the opportunity to study translation, poetry writing, fiction writing, and literature against the backdrop of classical thinking and architectural splendor that shaped aesthetic values in the West," said David Keplinger, AU professor of literature. "Whether you embrace or disregard the legacies of antiquity, you have been influenced by its presence. Here is your opportunity to be in dialogue with the legacies of Cicero, Virgil, and Horace, to name a few—a place of genuine metamorphosis." 
Learning from Established Writers
Each summer, students spend a week with a writer in residence. The writer in residence during summer 2016 will be Susan Minot, an award-winning novelist, short-story writer, poet, and screenwriter. Her works include Monkeys, Folly, Lust & Other Stories,and Evening. Her first novel, Monkeys, was published in a dozen countries and won the Prix Femina Étranger in France. Her novel Evening was a worldwide best seller and became a major motion picture. 
Teachers of graduate seminars in previous years have included novelists Edmund White, George Minot, and Elizabeth Geoghegan, as well as AU professor and poet David Keplinger. Also included in the program are a host of other poets, novelists, essayists, and translators.
About John Cabot University
John Cabot University was founded in 1972 and is an independent, four-year liberal arts university offering undergraduate degrees and study abroad programs to English-speaking students from all over the world. The university is located in the ancient Trastevere neighborhood of Rome, on the banks of the Tiber River. Its narrow streets and shops and restaurants are well known to be the most scenic and engaging areas of the city, whose thousands of years of history will provide a stunning and evocative backdrop for students' work.
For More Information and How to Apply
The application is free. As part of American University's agreement with John Cabot University, AU students receive a 10 percent discount on tuition, which is paid to John Cabot University. John Cabot also provides support for students interested in housing.
The application can be found on the John Cabot University website: 
http://www.johncabot.edu/admissions/graduate-and-continuing-education/graduate-study-consent.aspx
For more information visit 
http://www.american.edu/cas/literature/mfa/rome.cfm