Arts
Local Artist Directs Dance Choreolab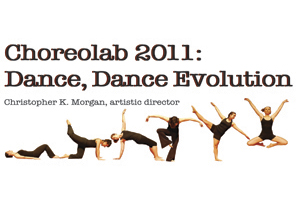 Throughout the performing arts world, one quote seems to be generally agreed upon: "Experience is the best educator." Simply put, while classes and studies are vital to one's craft, learning how to apply the knowledge in a real setting is what takes it to the next level.

Nowhere better are the two worlds brought together than in the dance program at American University, and more specifically, in the Dance Choreolab program. This program gives dance students an opportunity to explore the process of creating and directing a dance. "It's really about creating a laboratory within which they can experiment, take some risks, and work on the craft of creating a piece of art, which can be quite challenging," says Christopher Morgan, artistic director for the 2011 Dance Choreolab and artist in residence at American University. Morgan is also the artistic director of the Christopher K. Morgan & Artists/A Contemporary Dance Company, the resident company at CityDance.

The six student choreographers, Sareen Hairabedian, Lauren Christie, Rachel Hoopes, Elizabeth Naro, Stacy Hill, and Nicole Wallace, didn't dance in their own pieces so that they could observe from the outside. This allowed them to objectively look at all the choices they made as directors. Each student worked with a creative advisor, either Morgan or dance program director Melanie George. The creative advisor helped the development process by asking questions and giving critical feedback, but the students themselves were tasked with the creative, teaching, and directing duties.

The choreographers were chosen by a selection process. Early in the semester, the students submitted applications that were reviewed by Morgan and George. The number of students admitted into Dance Choreolab varies by year; in 2011, there were six. "Six is a good number," says Morgan. "It's big enough, yet small enough that they can actually visit each other's rehearsals and be a part of each other's process." At the end of the semester, those invited to participate in Dance Choreolab may also submit their work to be considered for inclusion in the spring dance concert in April.

The November 9th concert, "Dance Choreolab 2011: Dance, Dance Evolution," was the culmination of the students'work. It not only gave them a chance to perform their works; it was also an opportunity for discussion and feedback. Three panelists were present for the concert and discussion: Helanius Wilkins, the founder and artistic director of Edgeworks, an all-male modern dance company; Kristina Windom of the School of the Washington Ballet; and Lorraine Spiegler, the director of CityDance School and Conservatory. "These three bring knowledge spanning modern dance to ballet, and they will give the students multiple perspectives on their work and feedback that will help them grow as artists," says Morgan.

Having done multiple residencies at universities, Morgan finds that he likes working with this age group the most. "With dance artists at the college level, there is a good foundation of technical training and expertise, but also a willingness and interest to explore innovation and creativity in artistry," he says. "It's the time I can partner best with students to help them explore their own voices so that they become their own artists."

Morgan's main focus for his program is to create dancers that will be viable in the job market. Versatility, he says, is the key to a successful career. "When I lived in New York, I was able to continue working as a dancer because I was willing and able to do multiple things, whether it was ballet, music video, or hip hop."

Morgan's curriculum also focuses on helping students find their own artistic voice. He stresses that discipline and technique is important, but dancers need to take that foundation and build on it with their own artistry. "I know that as someone who hires professional dancers, I often look at them and try to see the individuality," he says.

The Dance Choreolab's influences can already be seen in the students. Rachel Hoopes, who is participating for a second time this year, had her 2010 Choreolab piece, "Forms of Women," accepted into Velocity Ramp, the preshow concert at the VelocityDC Dance Festival.
"Choreolab 2011: Dance, Dance Evolution" was held at the Harold and Sylvia Greenberg Theatre on Wednesday, November 9.