Department Spotlight
Dance Program Cultivates Mind and Body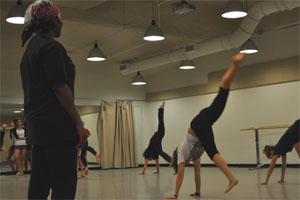 A sudden gymnastic lunge sends a dancer's hands to the floor, feet into the air, and for a moment, all is still, aligned—a body in motion becomes mass in harmony. This is the physics of dance.
"Dance allows us to be in the moment. You get that ineffable quality—the parts of life that cannot be described in words," says Melanie George, dance program advisor and full-time instructor.
The dance program cultivates "students as articulate movers, thinkers, writers, speakers, and creators of dance, providing a balance between artistic expression, technical proficiency, and scholarly inquiry," offering classes in ballet, tap, jazz, modern, musical theater, African, and ballroom for all skill levels from beginning to advanced.
Dance teaches skills that you use throughout your life—self-discipline, time management, organization, healthy living—but it also teaches how to manage one's development in relation to others, including synchronization, pacing, and collaboration in a community.
In the class "Dance and Society" for example, students learn about the importance of dance throughout history, including its ritual, social, and diverse cultural contexts. George finds that "dance reflects whatever is happening in our society," noting that "in our world of Facebook, there's a high-level of contact, but not a high-level of connection, so it never truly engages us with our community." A dance class can be a support system in ways that social networking—of the technological sort—cannot.
"Anyone can—and should—take a dance class," she says, "You grow and change and learn about yourself—we are process orientated, rather than product orientated." The first class of the semester serves as a placement class where instructors evaluate the student's skill level.
George speaks from experience: She's also an alumna of the dance program. "My AU experience bought me clarity. It serves everything that I do, and because of it, I'm stronger about who I am."
Many alumni are active in the professional world of dance and maintain close ties with the university. "Our program is for leaders," she says, "alumni have gone on to local, national, and international organizations such as the Washington Ballet, Dance/USA, Joe's Movement Emporium, and Joy of Motion."
She says that students stay late and arrive early for classes and rehearsals—not because anyone told them to—but because they want to and their dedication shows in the quality of their performances. "Because we [the dance program] are growing and redefining ourselves, people may not know how very talented our students are."
She invites you to see for yourself at the Choreolab Performance on November 10, 2010 at 8 p.m. in Greenberg Theatre, in addition to the AU in Motion Fall Showcase on November 19-20 at 8 p.m. in Greenberg Theatre and the Winter Informal Dance Showcase on December 3 at 7 p.m. in Katzen Recital Hall.