Arts
A Musical Tour of Russia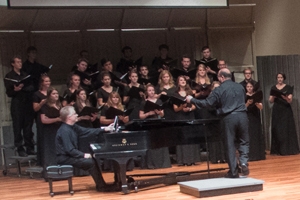 One of the major benefits for American University students is the opportunity for cross-cultural and international exchanges. The AU Chamber Singers will be partaking in their own cultural experience this spring as they embark on a two-week concert tour of Russia.
American University's Initiative for Russian Culture in the College of Arts and Sciences promotes greater understanding of the Russian culture's richness. It was designed to build lasting connections between Russians and Americans "by reaching out to their hearts and minds."
"[Dean Peter Starr] took a look at the initiative and approached me saying that he didn't want it to be a one-way street," says Daniel Abraham, director of choral activities at AU and conductor of the AU Chamber Singers. "He said that while we do bring some wonderful Russian artists to work with our students, we also need to bring some of what we do in the music field to Russia."
Along with the music program, the AU theatre program has also begun a robust exchange with the Volkov Theatre, having presented two plays in Russia and hosted a number of outstanding visiting actors and directors.
The AU Chamber Singers have a lengthy history of touring, with many trips to Latin America in the 1960s and 1970s. More recently, they have embarked on two more international tours, one to Hungary and Romania, and one to Spain and Portugal.
The opportunity to tour Russia is an exciting one for Abraham. He is looking forward to going out into the smaller areas and sharing a cultural exchange with people who are not constantly exposed to American music. "The more that we go to places on tour," he says, "we find the most energizing places for cultural exchange tend to be when you get a little farther out of the cities and into the places where the people haven't been exposed to the American culture every day. We have discovered that there is a ripe possibility for cultural diplomacy and understanding through these kinds of tours, and this tour is no exception."
The tour was specifically designed to stay out of the larger areas.
"We made a very conscious effort to choose locations that we thought would be much more in line with a cultural-diplomatic mission and not just a concert tour," explains Abraham. "I think that kind of experience for our students and the exposure of the citizens in Russia to an American choir, and the kinds of exchanges that go on as a part of a tour, not just concerts, but sometimes singing with other university groups or conducting master classes or working with other cultural organizations there, are all great avenues of cross-cultural exploration. That is one of the principal aims for the tour."
The chamber singers will be singing a program of a cappella literature, but they will also prepare a second program. "It is a bit unusual to take two programs on a tour," Abraham confesses. "The second program is a choral orchestral program, and we are going to be performing with at least two, if not three, orchestras in Russia."
The AU Chamber Singers will arrive in a city and do a series of rehearsals with the local orchestra, either the day of or the day before the concert, and then perform the concert together. "That is such an incredible opportunity to connect across cultures through the act of creating music together," he continues. "These are the kinds of things that were going on at the height of the Cold War when America decided to send a lot of jazz abroad to Russia. And now, I think we are in a place where university and other professional cultural organizations have more opportunities to do this kind of outreach without having to act under the auspices of the State Department."
While in Russia, the chamber singers will perform seven to eight formal programs. Two to three will be concerts with orchestras, and four or five will be a cappella concerts (a few concerts are yet to be finalized). Those seven to eight concerts will be spread over five different cities on their tour. The ensemble will begin with a concert in Moscow accompanied by an orchestra. Then, they will travel to Vladimir for one day for a concert, and then back to Moscow. The Chamber Singers will then fly to Perm, a city near the Ural Mountains, and spend a few days there.
According to Abraham, there may be a joint program with a conservatory there. The tour will then take the train to Yekaterinburg, where the singers will spend a few more days. "There are quite a few things set up there," says Abraham. "On top of the concerts, we are doing some exchanges with a youth choir, a university choir, and a couple of Russian organizations there."
From there, they will travel by train to Kazan, where they will perform an a cappella concert, with the possibility of an orchestral concert. They then fly back to Moscow for a final a cappella program performance and then head home.
This is a great opportunity for these students, both for musical growth and cultural understanding. "I think the exchanges in these ancillary events that are part of the tour, but not formal concerts, are wonderful," says Abraham. "For example, we are doing an exchange with a university choir, and our students get to experience the Russian students' voices as we are standing on the same stage together singing the same literature. That is just going to lend itself toward a different kind of musical experience for the Russian students and the AU students."
The AU Chamber Singers will perform a preview concert of their Russian Tour program in April, date yet to be set. For more information on the preview concert, and for more information on the AU Chamber Singers, visit AU Arts.