Research
David Pike Researches Modern Urban Underworlds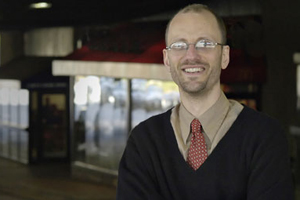 Professor David Pike's fascination with underground spaces has led him all over the world to investigate modern usage of relics such as bunkers, storage spaces, and shelters. 
Last year he found himself in Dunedin, New Zealand, where he gave a series of lectures on the artist Wayne Barrar and modern urban underworlds. There, the Dunedin Public Art Gallery organized a photographic exhibition entitled Wayne Barrar: An Expanding Subterra, bringing together a number of Barrar's recent works focusing on the underground in New Zealand, the United States, and elsewhere.  
"Prior to the exhibition," he says, "I had only seen Wayne Barrar's photos in reproductions. To see original prints hung together in large-scale format was astonishing." 
Following the success of the exhibit in New Zealand, Pike has organized a similar show to debut at the American University Museum at the Katzen Arts Center on September 3. Barrar himself will be on hand as will a number of other scholars to participate in the conference attached to the exhibit, entitled The Ground beneath Our Feet: Building, Living, and Thinking Underground on November 11. "It's a great opportunity for AU and the DC community to host the first one-person show by this internationally exhibited photographer in the U.S. in a decade," Pike says.
"[The conference] is especially exciting for me because it will bring together a genuinely interdisciplinary group of scholars to discuss Barrar's work and examine the political, social, and cultural ramifications of underground space and land development around us today," Pike says.

Pike has long been looking at historic underground spaces, particularly in London and Paris. What drew him to Barrar's photography are the different ways in which Barrar reveals the representation of these spaces. 
"Barrar is fascinated by the interface between the human and the industrial," Pike writes in his essay "Looking Underground," which appears in Barrar's recently published collection of work, Wayne Barrar: An Expanding Subterra, "as also between the organic and the inorganic in what he calls 'commodified subterra'." As Pike recalls about the New Zealand exhibition, "the large scale of the spaces he is photographing and the strange perspectives created by the subterranean location came across in a completely different way in this context."
Although not all focused on the underground, Barrar's work is interested in the relationship between people and the environment in an increasingly complex society. The commodified subterra Barrar investigates has been valuable to the way Pike thinks about the exploitation of the modern underground. "Like Wayne," he says, "I am particularly interested in the ways in which these spaces are re-used, and the practical and imaginary relationships between prior and current uses of the subterranean." 
"[Barrar's] gaze is non-judgmental and descriptive," Pike writes, "silently correcting and updating prior traditions: this is what is happening in the subterra today; observe it, think about it, figure out what it means." 
Pike's current project, "The Bunker Fantasy," studies changes in the way we thought about and used underground space during the cold war period, and then what has happened to those spaces since 1989. While in New Zealand, he had the opportunity to tour a number of WWI and WW2 fortifications and to investigate the details of New Zealand's militant bio-security measures. This summer Pike and Barrar will travel to Switzerland and Albania to further investigate the intersection of underground architecture and politics. Their research will seek an answer to the question, "What happens to spaces and the ideas they materialize once the sources of those ideas have disappeared?"