Achievements
Dean Peter Starr Delivers Annual Address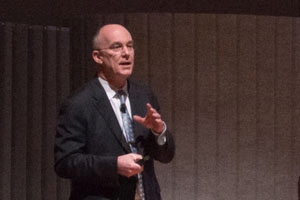 In his sixth annual address to faculty and staff, Peter Starr, dean of the College of Arts and Sciences, reviewed the highlights of the past year, discussed upcoming challenges and opportunities, and shared his vision for the future of the College. 
"It was a very, very good year for the College," said Starr, pointing to new tenure-line faculty hires, innovative new curricula, and growth in student enrollment. College of Arts and Science faculty continued to win recognition for their work: they published critically acclaimed books, served as presidents of national scholarly organizations, and won millions of dollars in grants from prestigious organizations including the National Institutes of Health and the National Science Foundation. 

Starr shared other good news: the cutting-edge Don Myers Technology and Innovation Building is scheduled to open in fall 2016, and plans are in the works for a new 75,000-square-foot life sciences building. Fundraising numbers are at their highest in a decade, and the College was ranked sixth in the nation for a major in the social sciences, according to USA Today.  
New Faculty Awards and Recognition 
"We've had several years in a row of hiring extraordinary faculty," said Starr. In the fall, four new tenure-track faculty will join the College: Ernesto Castaneda (sociology), Juliana Martinez (WLC), Kendra Salois (performing arts), and Isaiah Wooden (performing arts). In addition, Shouzhong Zou (chemistry) will join the College as a tenured professor.  
Starr also highlighted the accomplishments of current College faculty. Over the past 18 months, six faculty members were named or served as presidents of major scholarly organizations: 
Michael Brenner (Israeli studies), Leo Baeck Institute 
Terry Davidson (psychology), Eastern Psychology Association 
Dolores Koenig (anthropology), Society for Economic Anthropology

Alan Kraut (history), Organization of American Historians

Robert Lerman (economics), President of the Society of Government Economists

Martha Starr (economics), Association for Social Economics
At the same time, American University honored three College faculty members for their outstanding scholarship and teaching. Terry Davidson (psychology) won an Outstanding Scholarship, Research, Creative Activity, and Other Professional Contributions Award. Kate Gunthert (psychology), received the Outstanding Teaching in a Full-Time Appointment Award, and Betty Malloy (mathematics and statistics) won the university's Morton Bender Prize. 
New Curricula, Expanding Enrollment 
In the last year, the College launched a series of new curricula, said Starr, including a new BS in neuroscience, the CAS Leadership and Ethical Development program, an MA in game design with the School of Communication, and online master's degrees in economics, nutrition education, and teaching English as a foreign language. 
In addition, the College graduate program enrollment has risen by nearly 2,000 credits in just one year. Master's degree applications have also grown appreciably. 
External Funding 
College faculty built on their strong record of winning—and spending—prestigious research grants from the National Institutes of Health, the National Science Foundation, and the Department of Health and Human Services. 
This year, Starr focused on grant spending, a key metric for evaluating how researchers are using large multi-year grants. In the past year, major research funding was spent by Mark Laubach (biology), Kim Blankenship (sociology), Jon Tubman (psychology), Paul Winters (economics), Colin Saldanha (biology), Terry Davidson (psychology), and Martha Starr (economics), among many others. 
Starr noted that pre-tenure faculty won a large number of significant grants, particularly in the sciences. "Junior scientists thrive here at American University in a way that is heartening, both for ourselves and for their future careers," he said. Grantees include John Bracht (biology), Naden Krogan (biology), Michael Robinson (mathematics and statistics), and Catherine Stoodley (psychology). 
Departments Brought Together, New Science Facilities 
Starr announced that work is ongoing to house historically fragmented departments in a single building in upcoming years, an effort that will increase collaboration among departmental colleagues. 
He also discussed progress made on the Don Myers Technology and Innovation Building on the new East Campus. "This is going to be the home of physics, mathematics and statistics, computer science, and the gaming program: two floors, two buildings, state-of-the-art structural spaces. And all through the building you are going to see science in action: you will see the visual life of science." 
Starr presented a mock-up of a new life sciences building, which has a proposed 2019 opening. Its 75,000 square feet will house biology, environmental science, chemistry, and neuroscience. Faculty will be clustered in functional groups, rather than by department, based on access to specific equipment and technology. 
What's Next: Ecology of Innovation and Learning Through Making 
In the future, said Starr, the College will continue to build on its historic strengths: 
Liberal education, which fosters flexibility, confidence, and an innovative spirit;

A commitment to service; and

A philosophy of learning by doing, exemplified by the hands-on learning in science labs across campus and the wide range of internships undertaken by AU students each year.

"At the same time, we are increasingly striving to exemplify an ecology of innovation," said Starr. One example is CAPRI, the new Collaborative for Applied Perceptual Research and Innovation, which brings together faculty from across the university to investigate how new technology can revolutionize our understanding of perception in science, culture, and daily life. "CAPRI represents precisely the kind of intriguing, interdisciplinary cutting-edge work that we want to foster at the College," said Starr. 
Other examples of the College's work to build an ecology of innovation are collaboration spaces featuring virtual tutoring; state-of-the-art online degrees; partnerships with corporations in the education and gaming fields; and a Mellon Foundation-funded project to develop new ways to support student success across the University. 
The College is also working on new ways to teach students how to "learn through making" – from developing interactive social interaction games in the Game Lab, to using the proposed Humanities truck to document the stories of local communities, to embedding geocaches filled with historical materials, stories, and art. The goal of these curricular innovations, said Starr, is to break down barriers between disciplines and provide students with interactive opportunities to learn about the world.